A Blueprint for the Next Decade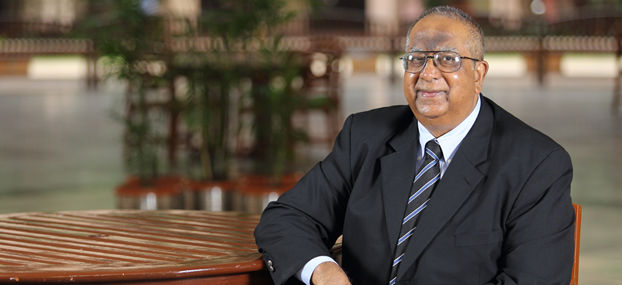 Rajendra Srivastava is the new Dean of the Indian School of Business and the Novartis Professor of Marketing strategy and Innovation. A 30 year veteran academician and administrator, he has held several tenured faculty and administrative positions.

Before joining the ISB, he was Provost and Deputy President of Academic Affairs at Singapore Management University. He is a highly cited scholar, with work published in leading marketing journals; and the recipient of several awards and honours. He has been actively involved in setting up several postgraduate and doctoral programmes as well as research centres and initiatives in close collaboration with industry. He has also been involved in consulting and senior management training with global MNCs.

Dean Srivastava is committed to cross-functional integration in management of business processes. In his earlier roles, he championed inter-disciplinary research and academic programmes, nurturing multi-disciplinary areas of excellence in financial markets, innovation and business analytics. He brings with him a unique blend of experiences integrating academic and business perspectives from the west and the east.

In a recent letter to the alumni community, the Dean outlined his hopes for the School. He began by sharing his sense of the School's potential:

"I am no stranger to ISB, having been a part of the founding faculty at the School way back in 2001. ISB was aspirational from the very beginning and it continues to be so even as it inspires and provides opportunities to generations of future business leaders. It has come to be counted among the top business schools in the region and has earned accolades thanks to the excellent faculty and the achievements of its alumni.

Speaking from my experience at various management schools, I strongly believe that the reputation, and recognition, of any institution of higher education rides on the success and competence of its alumni and faculty. In fact the relationship between the alma mater and the alumni is symbiotic and lifelong.
I believe that with the kind of support ISB has from the business community, its students, and most importantly its alumni, we could be the top business school in Asia. We have to work hard to ensure that ISB emerges as a school from Asia that is among the best in the world – rather than a good western oriented school that happens to be in India."

Dean Srivastava went on to elaborate on his vision for realising that potential:

"To achieve this we will have to follow three principles.


•
First, ISB will have to develop a reputation as a school that balances the best of Asian insights that are valued all over the world, with Western thought.

• Second, ISB will have to push for impact on business strategy and public policy. This will require a focus on both theory and practice and close collaboration with the corporate entities and government agencies.

• Third, to do so effectively, we must adopt multi-disciplinary perspectives in our academic and executive programmes. Real challenges and opportunities are rarely focused on a single discipline. Effective management of innovations, mergers and acquisitions, application domains (e.g., verticals such as healthcare or the financial sector) require integration of ideas from strategy, finance, marketing, operations and org behavior."


Join Dean Srivastava and the School in realising this vision in 2016 and the years that follow.

Dean's Interviews with the media


"We will have to work with stock exchanges: Rajendra Srivastava, Dean, ISB" says in an interview with
The Economic Times

'ISB's new dean aims at top-10 rankings' says the Times of India

"We will embrace what the nation needs, whether it is Digital India or Make in India. So we will be looking for more collaboration with the government and industry" says Professor Rajendra Srivastava, Dean, ISB sharing his plans and vision for the school, with Business Today