To be an internationally top-ranked*, research-driven, independent management institution that grooms future leaders for India and the world.




Ms. Tanvi Arora from Co2013 has been awarded the first Alumni Endowment Scholarship for the academic year 2012-2013.
MORE >>




Updates and Information on upcoming events from the alumni association.
MORE >>


PGPMAX Founding Class
Arijit Chatterji got married to Poulomi on June 13, 2012

Class Of 2006
Ajay Thomas Abraham won the 2012 Fordham University Doctoral Dissertation Competition in Behavioral Pricing on 17 June, 2012.
MORE >>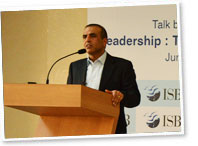 It's been a super busy June with a number of events, activities and prominent visitors at both our campuses. The GSB core elections have been held and all clubs are in place...
Table Tennis was my world. Since 1998 it has been the most significant aspect of my life until a stupendous incident occurred. I received a confirmation letter from one of India's premier educational institutes, the Indian School of Business (ISB). Mr. Kannan's confirmation letter has provided a base for my tremendous transition from being an international Table Tennis athlete to a focused MBA grad.
MORE >>




ISB alumni are making their mark in diverse businesses around the world. In this issue, four such remarkable alumni, Kaumudi Oak, Vignesh Ganesan , Dheeraj Chintala , and Prashant Bhavaraju talk about their lives at the ISB, career path after graduation and vision for the School.
MORE >>

Not long ago, Alitalia was one of the largest airline companies in the world. Today it is a pale shadow of its former self, having burnt massive amounts of taxpayer money before filing for bankruptcy a year ago.
MORE >>