To be an internationally top-ranked*, research-driven, independent management institution that grooms future leaders for India and the world.



Updates and Information on upcoming events from the alumni association.
MORE >>



Class of 2013
Raunak Sinha got married to Rashi Shekhar on September 4, 2013

Arvind Naick got married to Varsha Prabhu on September 2, 2013
MORE >>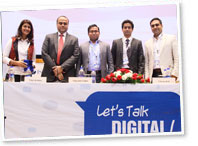 We are halfway through the academic year and the Class of 2014 has started gearing up for the elective terms. The PGPMAX and MFAB classes have also been busy with guest lectures, projects...
MORE >>

 
As we reach the midway point of the 51-week roller coaster ride, most of us have only just begun to realise what a game changer this one year is going to be!
MORE >>




Many of us would have seen this: A top corporate showing great images of how they have donated health products, solar lamps and other worthy things to the poor. The pictures generally show happy faces of "beneficiaries".
MORE >>



ISB alumni are making their mark in diverse businesses around the world. In this issue, four such remarkable alumni, Abhishek Gupta , Abhishek Srivastava, Karthik Valluru and Abhishek Awadhani talk about their lives at the ISB, career path after graduation and vision for the School.
MORE >>

Welcome to the latest section of Alma Matters "Bookshelf" - a platform where people can share their comments, feelings and thoughts about various books they read. From business and economics to SCI-FI, thriller and comedy...
MORE >>