To be an internationally top-ranked*, research-driven, independent management institution that grooms future leaders for India and the world.




Updates and Information on upcoming events from the alumni association.
MORE >>



Class of 2004
Durga Raghunath and Vishnu Vasudev were blessed with a baby boy

Class of 2006
Gaurav Chattur and Roshni Chattur were blessed with a baby girl on March 23, 2015
Class of 2010
Ashwin Uppal got married to Hermann Arora on March 28, 2015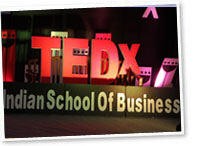 This month has been an exciting one, replete with lifelong learning opportunities and alumni gatherings across the globe, demonstrating both the intellectual curiosity and the bonhomie of the ISB...
MORE >>

Sahayak Diwas 2015 was launched in a new avatar – Kritagyata 2015. In Hindi and Telugu this word broadly means an 'expression of gratefulness'. A previous class had used this name, and Class of 2015 decided to freeze upon it permanently, to best capture the spirit of the event.
MORE >>




ISB alumni are making their mark in diverse businesses around the world. In this issue, four such remarkable alumni, Manojit Bose , Amit Pachisia, Ankur Warikoo talk about their lives at the ISB, career path after graduation and vision for the School.
MORE >>
Get prospective students to download the 'ISB 360!'
mobile app




Welcome to the latest section of Alma Matters "Bookshelf" - a platform where people can share their comments, feelings and thoughts about various books they read. From business and economics to SCI-FI, thriller and comedy...
MORE >>