To be an internationally top-ranked*, research-driven, independent management institution that grooms future leaders for India and the world.




Updates and Information on upcoming events from the alumni association.
MORE >>



Founding Class
Prashant Pinge's latest work of children's fiction, Sid & Po has been published by Happy Squirrel, an imprint of Leadstart Publishing Corp. The book is for children in the age group of 7 to 9 years

Class Of 2008
Tanya lobo and Harsh Pais were blessed with a baby boy on January 21, 2013.

Class Of 2009
Rakesh Gupta and Dipali Dalmia were blessed with a baby boy on February 01, 2013
MORE >>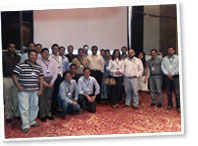 Time has just flown by and the Class of 2013 will be ready to graduate in about a month's time. I am happy to report that things have been going well with...
MORE >>


Welcome to the latest section of Alma Matters "Bookshelf" - a platform where people can share their comments, feelings and thoughts about various books they read. From business and economics to SCI-FI, thriller and comedy...
MORE >>


At a crowded pub amid the din of music, I managed to overhear a conversation at a nearby table. It wasn't entirely surprising that the guys were from the advertising fraternity, what with the pub's extended happy hours generously serving up pints to drown the sorrows of our corporate life.
MORE >>




ISB alumni are making their mark in diverse businesses around the world. In this issue, four such remarkable alumni, Nirja Thakore , Sameer Mehta, Tamanna Tripathy, and Sanjeev Handa talk about their lives at the ISB, career path after graduation and vision for the School.
MORE >>

As a country, we are going to have increasingly younger population. We can only benefit from a young work force if they are educated and possess the necessary skill-set to be employed.
MORE >>