The Transformative Power of One Year.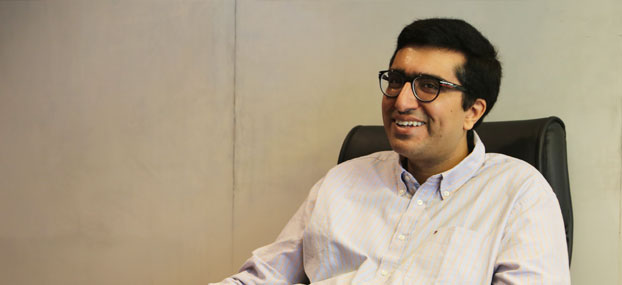 Starting in true MBA fashion, there were three takeaways from my interview with Umang Kumar. The first, and foremost, was the flying kiss I received from Uday, his fifteen month old who gazed back at me on Skype, the second was his blinding self-confidence, and third, the transformative power of a great one year MBA. By his own telling, Umang divides his life into two phases, the first, an almost hackneyed journey featuring an introverted nerd that could belong to any intelligent boy from an upper middle class background to the second, a self possessed man driven by a need to create change, who went on to head the biggest online auto portal in the country, two stages clearly demarcated by one life changing experience, ISB. In a candid conversation with Reshma Krishnan ( Class of 2003), Umang Kumar (alumnus of Class 2006, Co-Founder and CEO of Gaadi Web Pvt Ltd), gives a peek into his world and shares his profound outlook and passions in life.

A tale of two Phases
Born in Pune and raised in Bangalore, the teenage Umang seems to have been every parents dream. An all rounder, driven by his mother to excel at everything he put his mind to–sport, spelling bee, debate, academics and even the tabla, Umang was prone to overachieving quite early. Losing his mother at a formative age however, saw him withdraw into a shell lined with books and technology. His most memorable book, he recalls, was Little Lord Fauntleroy by Frances Hodgson Burnett. A rags to riches story of a young boy who suddenly finds himself heir to an Earldom and wins over everyone's heart, including his evil grandfather, by believing everyone else is inherently good; this greatly affected Umang. 'When you are faced with innocence that completely believes that you are good, everyone consequently wants to be perceived as good by you. He transforms lives around him.'

He also recalls the period between fifteen and nineteen as being an intensive period of self-introspection, coding and reading -he spent the night before his 11th standard exam reading Gone With The Wind, a stark difference from the extrovert he would be considered in ISB and at work today. 'People at work think I am an extrovert, but at heart I am an introvert. I don't think I open up enough to have very close friends and I am not the kind of person who will talk about my love life. I don't bond at that level.' The only person in his circle of influence at the time seems to have been his brother whom he calls his rock, and the person who encouraged him to accept his father's second marriage whole heartedly. 'I have two moms,' he says with deep respect for a family that keeps him very rooted.





While he probably didn't know it at the time, the entrepreneur in him was already at work. There was a constant need to excel- 'I wanted to be a rock star in coding and so entered every competition I could', and self-awareness rarely found in a young adult, the one defining trait all successful people have. 'I have always known my own mind and will do what I think is right for me. I am not a rebel, I respect my parents but they know that every decision will be mine in the end.' Dead certain he wanted to do computer science and live in Bangalore, he chose to attend RV College of Engineering instead of Bilani because he didn't get the major he desired.

He describes his undergraduate years as a 'whirlwind of partying and coasting through classes.' Yet he graduated in 2003 with the second highest paid job out of campus to become a coder at Telisma, a job that saw him playing Age of Empires four hours a day.

The power of one year
One early November morning in 2004, his father, who had never interfered in his son's career choices, gently placed the Economic Times in front of him. He pointed to an article showcasing an upcoming school called ISB, complete with foreign celebrity faculty and five-star infrastructure. Umang chose to roll the dice with a 4-year-old school. 'Fundamentally I am a risk taker. Counter intuitively though, I think entrepreneurship is all about reducing risk because you've already taken the biggest leap by starting something in the first place.'

But while ISB might have been happenstance, its impact was anything but. The dormant overachiever resurfaced and unleashed itself in a torrent of competition, studying, socializing; the experience was epiphanic. 'I did everything. Sleep suffered but at 22 you don't really care. I was playing a lot of sports, doing well academically, doing everything really. ISB changed me on a fundamental level. Before I joined, my dream job out of campus, according to my ISB essay, was to join Infosys in a sales role. ISB made me want to 'up' my game. It raised my benchmark and made me ask the question, I can do more, why don't I?'

A road less travelled
And so he did. Eschewing the Holy Grail that is consulting or investment banking, he opted instead to work in strategy with ex-ISB dean Pramath Sinha at Anandabazar Patrika, the Calcutta based media conglomerate. 'Our dream was to take ABP public and make it a powerful platform for digital ventures.' This was a radical thought at the time; in 2006 India had a measly 25 million active Internet users compared to the 375 million we have today. But a serious viral infection led to a mini-sabbatical and a consequent move to Delhi, following Pramath to his start up, 9.9 Media. But the potential of digital disruption continued to gnaw at Umang and so when an ISB class mate, Vivek Pahwa, called him one evening to tell him he could get his hands on a portal, Gaadi.com, Umang sniffed the opening he needed and gave in his notice.

With Umang driving sales and Vivek heading product, the portal quickly turned profitable and, more importantly, eligible for an acquisition. It was only a matter of time before the twenty- nine year old was faced with a million dollar payout, a mere nineteen months or so after starting the company. 'In hindsight we realise we shouldn't have sold out that early but we didn't have the foresight to realise how big the internet would become.' His company wasn't the only one to get hitched because by then, Umang had met Kanika and in his usual 'whirlwind' fashion they fell in love in 2010 and got married in 2012.

While Vivek exited completely, Umang chose to become a regular employee with a three year lock-in as he worked off his earn out, albeit still the CEO of the company. He spent much of the first year twiddling his thumbs or in his words, 'chilling as much as someone like me can.' In other words, he doubled revenues and quadrupled headcount. His home became the local hangout but the stifling environment began to rankle and he was soon facing the choice of leaving Gaadi.com, again, to start something afresh or stay on, battle the bureaucracy at Naspers and try and sell Gaadi.com to someone who would actually see its potential. Naspers agreed to proposal and Umang got down to the grueling task of finding a buyer that would meet his employers' diva like expectations and Umang's non-negotiable desire for some skin in the game.

Reaping Rewards
This finally came in the form of a sale to CarDekho.com, owned by GirnarSoft and founded by Amit Jain, in October 2014. From a place of zero equity, Umang negotiated himself a sizeable equity stake along with board seat in the new company as well as a cash component; he now runs the entire business of combined entity which became the number one Auto Portal in the country. Between the period of January 2015 and March 2016, CarDekho.com raised a total of 75 million dollars, the last 15 million tranche an investment from Google Capital. He, along with the other founders, now owns a controlling interest in the company that is valued at around 400 million dollars; they also control the board. Not bad for thirty two year old who could have thrown it all in a few times but chose to battle on with an idea.

'Success is going from failure to failure without losing your enthusiasm,' he laughs quoting Winston Churchill. When I tell him I see no failure he replies that failure is relative. 'I was the number 3 auto portal in the country. Why wasn't I number one? I got there eventually with this deal, but it would have been cool to be in the situation where I was buying the other guy out. Everything doesn't go quite the way you expect it to. So you have to prepare yourself. The older you get you realize there is a very fine line between success and failure. It's very easy to fall on either side of the line because the inputs are just the same.'

It all boils down to self-belief
Despite the success, the pressure of playing on a different stage keeps him grounded. 'We have a long way to go. Raising capital is only 20 percent of the work, actually creating value to justify the money that you have raised and building a billion dollar company that is the challenge in the next 3-4 years. If it happens, wow,' he says, ' just wow. We have a real shot of making it happen. Not everyone gets the opportunity to build a billion dollar company but it's going to take more hard work than I have ever done.'

Hard work aside, he doesn't belittle the roles luck and exposure have played in his life. ''I know a lot of very smart and hardworking people. What makes a difference is the exposure. Once you are given it, it is then a function of how you grab the opportunity. I had the opportunity to run a young company at a young age and made it happen. That has made me the person I am today.' And yet I sense a yearning in him to take a break, echoed by his wife, Kanika, standing next to him, both physically and metaphorically. 'Kanika is my rock. She is very proud of me.'





I ask him if he still sees himself as a Little Lord Fontenroy and his shrug betrays his smile; I sense cynicism. 'I would say I am jaded yes, it's a result of being an entrepreneur and having 3500 people working for you. There is an image I want of myself. A is whom I am, B is what I want people to perceive me to be. Earlier I wanted a person to perceive me as someone who helps others in need. In ISB, I was one of those guys who would help people out and do stuff for others without expecting anything in return. Eight – ten years ago I would have cared about what people think. Today, I do good because I want to. What has changed is how I see myself. Before I wanted everyone to think one way of me. Today, I do it for myself. Today, I know what I am and where I want to be.'

As we say our goodbyes and promise to catch up in person rather than over a fickle WiFi connection, I am reminded of a favorite French idiom, 'bien dans sa paeu', which roughly translates into, 'to be comfortable in his own skin.' I don't know many 35 year olds who I can say that about, do you?


The interview was conducted by Reshma Krishnan Barshikar, Class of 2003. She is a writer and novelist and, contributes to leading newspapers and magazines.