Milestone Celebrations at Solstice 2016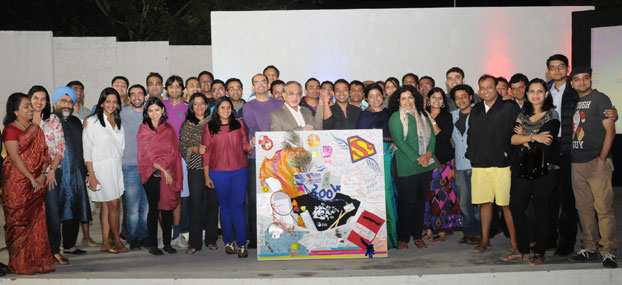 Solstice 2013


PGP Founding Class completes 15 years
By Ramanan Venkata, PGP Founding Class

If God were to grant one wish, I am sure most of us in the Founding Class would love to get back our year at ISB.

Looking back, I can't believe we packed all of that into just one calendar year – from gruelling academic schedules, study groups and guest lectures to "Thank God It's Thursday" nights, birthday dunkings in the pool, parties by the Nirvana rock and football matches in the rain.

As the Founding Class, we did face some teething issues with respect to infrastructure set-up, etc., but we also had our fair share of privileges. In hindsight, I would even say that the privileges far outweighed the minor issues. We had the privilege of setting up the various clubs at the school, we had direct access to the Governing Council and Board of Directors, we were the only class at ISB to be taught by the maestro Sumantra Goshal, we had our names etched in the rock at the Founder's Lounge, and, last but not the least, we received our graduation certificates from the then President Elect, A. P. J. Abdul Kalam.

Taking a trip down the memory lane, all this seems like just yesterday, although it has been an incredible 14 years since our class graduated. Big corporates have been talking a lot about diversity and inclusion in the last four to five years. Fifteen years ago, our class was as diverse as it could get —Army majors, medical doctors, fashion designers, chartered accountants —you name it, our class had it. What is even more gratifying and humbling is that after graduating from ISB, all of us found our little place in the sun instead of jumping on the bandwagon. Among the Founding Class Alumni, we have a freelance artist, an entrepreneur who runs one of the largest loyalty programmes in the world and an educationist, to mention a few.

My classmate Divya Kapoor recalls, "We were a spirited, diverse cohort, and I remember being told how I was significant contributor to the diversity of the class as the first "designer" that ISB admitted. During the year at ISB, we were fortunate to have been taught by truly inspiring professors like the current RBI Governor, the current ISB Dean, the previous INSEAD and Kellogg Dean, the Wharton Dean... the list goes on. My studies not only prepared me for corporate life ahead in the strategy field, but inspiring coursework in Leadership and Change Management with the indomitable Sumantra Ghoshal also gave me the confidence and motivation to step out of my comfort zone, explore uncharted territory, and thus pivot to a career in international development and policy. Based in Tunisia, I witnessed the Arab Spring unfurl at close quarters, and I am now continuing international economic development and policy work in Washington D.C."

The Founding Class is still very connected — both within the class and to the school. We have a thriving WhatsApp group which beeps 24×7, given that the group is scattered across the globe. We cherish our "chance meetings" at airports and conferences and "not-so-chance meetings" over coffee or drinks. Divya says, "I hope that we can all come together, perhaps back on campus, for a '15 years after ISB Master Class!'"

Our small class of 128 is still actively involved with the school in many aspects. I am now part of the ISB AA Senate in the capacity of Director, External Liaison. Many of my classmates regularly mentor students at ISB. This is our little way of giving back to the school that has given us so much.

As Aditya Mishra, also of the Founding Class and a student mentor, says, "The ISB experience is a life journey that prepared me to face any situation. It gave me the confidence and ability to stand up — what I call "FIO – figure it out". The late Professor Sumantra Ghoshal's class is still fresh in my mind. I remember his example of "smell of the place" when it comes to context setting for any issue. In each of my experiences—setting up a new services product for an outsourcing major, or in a startup environment for four years in China, or working as Asia-Pacific CFO for onshore wind in GE—I was able to implement my learnings at ISB. I continue to maintain a deep connect with ISB as I mentor finance students each year. This is my way of expressing my gratitude."


Class of 2007 completes 10 years
By Viren Vijaya Vijayshankar, Class of 2006

One crore salary discussions that lasted two days into Orientation Week. Bob Stine, Mark Finn and Rakesh Vohra in Term 1. Mark Strat sessions that took forever. Watching the FIFA World Cup on the lawns of the Recreation Centre. That 'memorable' DMOP exam. The mother of all town hall meetings. Birthday dunkings throughout the year. Jam and his love for Sarovar. The best Solstice party ever thrown. Ganesh Chaturthi, Diwali, Christmas and Holi celebrations. Mala marshalling us through Placement Week. Aman Singh's legendary skit. Term 8 and Disorientation Week. Proud parents and spouses on Graduation Day.

That is what many of us remember about ISB after 10 years. A lifetime's worth of experiences, friendships, learnings and assignments squeezed into one year. We all changed at ISB, most of us put on weight, many of us made friends for life and a lucky few found their soulmates. As clichéd as it sounds, it was one helluva year.

Life after ISB was so very different. Each one of us embarked on our own unique journey. We have met, wooed and married amazing people. We have taken on responsibilities that we could never have dreamt about before ISB. And while some of us have achieved this with strategic planning, most of us have accomplished things by grabbing opportunities as they came along. As one of my classmates loves to say, "Dude, we'll figure it out". And we have.

During this year's Solstice, we have very simple expectations. Party, sit through a few speeches at Khemka and then party some more. For us, it would just be a reenactment of our most vivid memories at ISB. Instead of a lifetime's experiences squeezed into one year, it would be one year's experiences squeezed into a weekend.

Every class develops its own definitive characteristics. The Class of 2007 was competitive but friendly, driven yet easygoing, united though still fiercely individualistic. Which is why if asked what our vision for ISB should be, most of us would answer, "Vision? Just run it well. Oh, and please don't open another campus".

Thanks to ISB, our lives are richer, fuller and more rewarding. As we grow older, we have come to realise that family, friends and health are just as important as compensation packages and job designations. Many of us are still finding the right balance. Perhaps the write-up for the 2026 reunion will talk about how we have achieved it.

Till then, let us focus on Solstice 2016. See you there!


Class of 2012 completes 5 years
By Priyanka Anand, Class of 2012

I remember visiting my brother (Class of 2007) at ISB in the hot and dry month of April 2007. I wanted to see him graduate and get a taste of ISB. After all, I'd heard so much about it for a better part of the year, that I had to see what all the fuss was about. I remember getting out of the taxi outside SV3, a place I would call home five years later, and being completely awestruck. My brother proudly showed me every nook and cranny of the school. I'd never seen a place like it before. The atrium was filled with so much energy and excitement—everyone was running around introducing their parents to their ISB family and there was laughter and happiness all around. It was then that I decided that I too wanted to be a part of this ISB family someday. But I had just finished my Bachelor's degree, so of course it was going to have to wait.

Flash-forward to April 2012. There I was, walking up the stage to get my degree. It was among the proudest moments of my life. I'd survived DMOP, made it through countless case study discussions without trying to kill any of my study group mates, and made it on time for (almost) all my morning classes … but more than any of that, I'd done everything I wanted to do in my one year there. I'd made a group of friends I still call family, I'd laughed and danced and sang, been on holidays, and I'd figured out what I wanted to do with my life.

In the five years since I've graduated, things have changed drastically. We've all moved to different cities, got married and changed jobs. We've grown in ways that we could have only dreamed of, and while we're all busy chasing our dreams, one thing hasn't changed— we're still a family. That's how I've always thought of my quaddies and extended quaddies at ISB, and I don't think that'll ever change.

We, the Class of 2012, made everything fun. We celebrated everything and did it together, whether it was birthdays, which involved the traditional dunking in the pool, or a party at the end of a truly grilling term, or a party simply because there hadn't been a party for a really long time (read: one week). For Solstice this year, I think that's going to be our focus—have fun and relive the amazing one year at ISB.

See you all at Solstice! We're all really looking forward to it.