To be an internationally top-ranked*, research-driven, independent management institution that grooms future leaders for India and the world.



Updates and Information on upcoming events from the alumni association.
MORE >>



Class of 2004
Aarti Ashok and Sandilya Vadapalli were blessed with a baby girl on July 23, 2013

Class of 2007
Prashanth kumar and Rashmi ramachandran were blessed with a baby girl

Class of 2008
Satish Nath and Neelima were blessed with a baby boy on October 18, 2013, 2013
MORE >>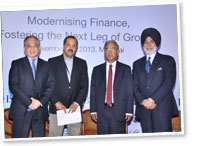 Collaboration, Stewardship,
Celebration, Learning.. These are the words that defined the month gone by for the ISB community.
MORE >>

 
As I check in on www.solsticebegins.in the clock shows just 20 days for Solstice. Our class has been labeled a studious bunch and for good reason, we certainly are.
MORE >>




5 ways to build your brand at the workplace
By Amit Nandkeolyar, Assistant Professor - Organisational Behaviour

Brand equity is not about companies alone. In a competitive and challenging work environment, it is important to demonstrate key traits that help you stand out and build your credibility in an organisation. Anumeha Chaturvedi takes you through the process. MORE >>



ISB alumni are making their mark in diverse businesses around the world. In this issue, four such remarkable alumni, Manish Mohta, Seemant Jauhari , Harsh Gupta talk about their lives at the ISB, career path after graduation and vision for the School.
MORE >>

Welcome to the latest section of Alma Matters "Bookshelf" - a platform where people can share their comments, feelings and thoughts about various books they read. From business and economics to SCI-FI, thriller and comedy...
MORE >>