To be an internationally top-ranked*, research-driven, independent management institution that grooms future leaders for India and the world.




Updates and Information on upcoming events from the alumni association.
MORE >>



Class of 2006
Ankur Warikoo Head of APAC, Emerging Markets, Groupon, is listed among 40 top executives in India under the age of 40.

Class of 2014
Nithya Sundaram has been selected as a global finalist for the Origami Idea Challenge.
MORE >>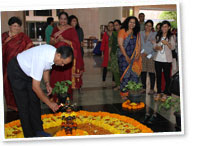 March has been an exciting month for the ISB community. Alumni and students have been in the news constantly, keeping the ISB flag flying high.
MORE >>

The boxes have been packed, classes of the final term are done, and goodbyes are in order. As an exiting student of Co14, I cannot help but sit back and reminisce about the year that has been. I still remember the goose bumps when I first entered the campus as a 'Student'.
MORE >>




An Insurance Repository (IR) is a company licensed by IRDA for maintaining data of insurance policies in electronic form on behalf of Insurers.
MORE >>




ISB alumni are making their mark in diverse businesses around the world. In this issue, four such remarkable alumni, Harpreet Singh, Suhail Abrol, Priyom Sarkar , Anil Prabhu talk about their lives at the ISB, career path after graduation and vision for the School.
MORE >>
Welcome to the latest section of Alma Matters "Bookshelf" - a platform where people can share their comments, feelings and thoughts about various books they read. From business and economics to SCI-FI, thriller and comedy...
MORE >>