To be an internationally top-ranked*, research-driven, independent management institution that grooms future leaders for India and the world.




Updates and Information on upcoming events from the alumni association.
MORE >>



Class of 2006
Rohit Kapoor and Shivani were blessed with a baby girl on March 10, 2012.

Class of 2009
Cesar vidal and Pallavi Janakiraman (Class of 2010) were blessed with a baby boy on March 10, 2012.
MORE >>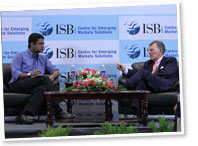 With Graduation day for the Class of 2012 around the corner, you can feel the excitement and the electricity, as well as nostalgia on campus. Various departments at the school, along with the GSB...

A couple of days back a friend asked me why I like to write. And not just write, but why do I put it up on display on social media platforms. The question set me thinking...
MORE >>




There are a million blogs on why you should not do an MBA. After all, some of the world's best known, most enduring organisations were set up by people with almost no formal education, leave aside an MBA...
MORE >>




ISB alumni are making their mark in diverse businesses around the world. In this issue, four such remarkable alumni, Carmen Rider Vázquez, Pranav Rastogi, Jagannath Kallakurchi, and Ramesh Mandava talk about their lives at the ISB, career path after graduation and vision for the School.
MORE >>