To be an internationally top-ranked*, research-driven, independent management institution that grooms future leaders for India and the world.



Updates and Information on upcoming events from the alumni association.
MORE >>



Class of 2004
Durga Raghunath has been promoted to CEO of Firstpost - Web18, the digital content arm of Network18.

Class of 2006
Ankur Warikoo, CEO of Groupon India has been promoted as head of Groupon APAC Emerging Markets (APAC-EM).

Class of 2012
Shyam Beriwal got married to Khushbu Bhartia on May 23, 2013. MORE >>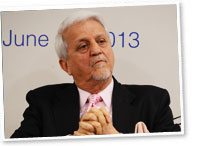 It's been an exciting June with a number of events, activities and prominent visitors at both our campuses. The GSB core elections have been held and all clubs are in place.
MORE >>

 
Electricity is the fulcrum of economic development in any country. India has installed power generation capacity of 210 GW as on November 30, 2012, which is about 154 times the installed capacity in 1947 (1362 MW).
MORE >>




Discussions about the disruptive changes underway in higher education with the arrival of MOOCs (the acronym for "massive open online courses", from Coursera, EDX, and others) tend to overlook an important point: the traditional brick and mortar classroom is not going to disappear tomorrow.
MORE >>




ISB alumni are making their mark in diverse businesses around the world. In this issue, four such remarkable alumni, Amit Dwivedi, Aanchal Maheshwari, Alok Mohanty, and Nikhil Gupta talk about their lives at the ISB, career path after graduation and vision for the School.
MORE >>

Welcome to the latest section of Alma Matters "Bookshelf" - a platform where people can share their comments, feelings and thoughts about various books they read. From business and economics to SCI-FI, thriller and comedy...
MORE >>