To be an internationally top-ranked*, research-driven, independent management institution that grooms future leaders for India and the world.




Updates and Information on upcoming events from the alumni association.
MORE >>



Class of 2003
Abhishek Gupta got married to Sanjana Ruia on July 07, 2014.

Class of 2008
Abhishek Kumar is appointed as Head Corporate Development at Snapdeal.

Class of 2013
Shruti Agarwal got married to Anup Goenka on 6 July, 2014.
MORE >>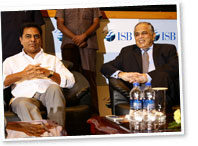 It has been a busy June with a number of events, activities and prominent visitors at both our campuses. The GSB core elections have been held and all clubs are in place.
MORE >>



B Schooled Episode # 2 
The Curious Case of 'Cp'
Apprehension had never been a friend of Joey's; although, it had forever been a not so treasured companion. The paranoia of not living up to the norms of a prematurely self defined convention isn't exactly a great feeling to harbor. In the same breath, giving in to convention is also not something to be proud of.

Why 2015 will be a year well spent for an entrepreneur
For an entrepreneur, the decision to join a business school is not easy. What made it tougher was the fact that I got married a week before joining ISB!
MORE >>



ISB alumni are making their mark in diverse businesses around the world. In this issue, four such remarkable alumni, Puneet Renjhen, Anuj Sahai, Rashmi Sharma and Vivek Narayan talk about their lives at the ISB, career path after graduation and vision for the School.
MORE >>

Welcome to the latest section of Alma Matters "Bookshelf" - a platform where people can share their comments, feelings and thoughts about various books they read. From business and economics to SCI-FI, thriller and comedy...
MORE >>