To be an internationally top-ranked*, research-driven, independent management institution that grooms future leaders for India and the world.




Updates and Information on upcoming events from the alumni association.
MORE >>


Class of 2007
Ruchir Kalra and Preeti Premanath were blessed with a baby girl.

Class of 2008
Radhika Mohan and Ajit Mohan were blessed with a baby boy.
Class of 2009
Chandrani Chakrabarti and Abhishek Mitra ('09) were blessed with a baby boy.
MORE >>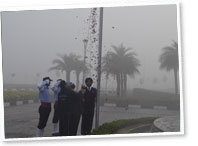 The new year started with many interesting events and activities on both our campuses. A Public Policy Seminar was organised in Hyderabad on 10 January and Prof. Vivek Dehejia...
MORE >>
Life at a business school is a rather coveted subject this time of the year.

Prospective applicants and in the Indian context, even their parents/grandparents and distant relatives want to know what the fuss is all about. As I sit back with my seventh cup of coffee for the day, it hits me – almost seven months of my student life are over! While I reflect upon what has passed in this roller-coaster ride of a year, I hope to give you a sneak peek or maybe more into the life a student at the Indian School of Business.
MORE >>




ISB alumni are making their mark in diverse businesses around the world. In this issue, four such remarkable alumni, Suhail Abrol, Saad Ahmed, Aditi Sinha , Juhee Bhandarkar talk about their lives at the ISB, career path after graduation and vision for the School.
MORE >>

Welcome to the latest section of Alma Matters "Bookshelf" - a platform where people can share their comments, feelings and thoughts about various books they read. From business and economics to SCI-FI, thriller and comedy...
MORE >>