To be an internationally top-ranked*, research-driven, independent management institution that grooms future leaders for India and the world.




Updates and Information on upcoming events from the alumni association.
MORE >>


Founding Class
Shalini Pillai Banerjee emerged as the winner of the Women Entrepreneur Quest in December 2012, which is designed to promote early stage women driven Startups

Class Of 2004
Kutti Krishnan and Jyothi were blessed with a baby boy on January 2, 2013.

Class Of 2005
Abhinav Sinha will join the Board of Directors of Richcore Lifesciences, which currently includes Siddharth Das and Bobba Venkatadri from Ventureast and Professor Kavil Ramachandran from ISB.
MORE >>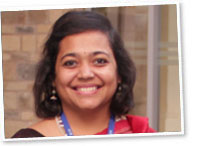 We've had an exciting start to the New Year, with some great events, conferences and happenings. Professor Sridhar Seshadri, the very well-known and renowned...
MORE >>

Welcome to the latest section of Alma Matters "Bookshelf" - a platform where people can share their comments, feelings and thoughts about various books they read. From business and economics to SCI-FI, thriller and comedy...
MORE >>


Last month, amid placements, classes and assignments, the ISB campus was abuzz with alums, students, staff, faculty and their families.
MORE >>




E-learning is transfer of skills and knowledge through computer or other mobile devices and network-enabled medium.
MORE >>



ISB alumni are making their mark in diverse businesses around the world. In this issue, four such remarkable alumni, Parth Awasthi, Nagajyothi Nookula, Alok Sapre, and Naga Prasad talk about their lives at the ISB, career path after graduation and vision for the School.
MORE >>
Do you want your employees to change their work habits? Or, may be, you made a new year's resolution to change a habit? Research on habit formation reveals that you are more likely to succeed if you focus on replacing the unwanted behaviour with a more acceptable one...
MORE >>