To be an internationally top-ranked*, research-driven, independent management institution that grooms future leaders for India and the world.




Updates and Information on upcoming events from the alumni association.
MORE >>



Class of 2009
Ajay Arora and Bhavna Singh were blessed with a baby girl.

Class of 2011
Saurav Atri got married to Shelpi Dahiya on December 7, 2014
MORE >>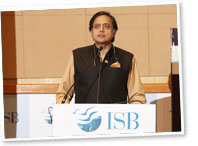 Here's wishing you a fabulous New Year! December, with which comes our annual alumni homecoming Solstice, brought many of us together for a weekend of merrymaking and renewed...
MORE >>


Thank you for Solstice 2014
If the Class of 2015 were to reminisce their first Solstice at ISB, the starry canopy at '08 Lounge, electrifying music under sky lanterns and a neon-lit Rec Centre were just the finer details. It was the enthusiastic participation from the alumni community that made the weekend one of the best on campus. More than 700 alumni along with spouses and families were present at Solstice 2014.
MORE >>




ISB alumni are making their mark in diverse businesses around the world. In this issue, four such remarkable alumni, Sandilya Vadapalli, Abhishek Chandra, and Aarti Kothari talk about their lives at the ISB, career path after graduation and vision for the School.
MORE >>

Get prospective students to download the 'ISB 360!'
mobile app




Welcome to the latest section of Alma Matters "Bookshelf" - a platform where people can share their comments, feelings and thoughts about various books they read. From business and economics to SCI-FI, thriller and comedy...
MORE >>