To be an internationally top-ranked*, research-driven, independent management institution that grooms future leaders for India and the world.




Updates and Information on upcoming events from the alumni association.
MORE >>



Class of 2008
Bhagyashri Dixit and Parag Dixit were blessed with a baby boy

Class of 2010
Rohit Narula and Neha Gupta Narula were blessed with a baby girl

Class of 2011
Parth Awasthi got married to Sonam Nawani
MORE >>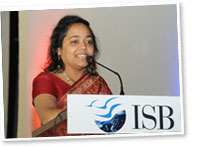 December saw hectic activity at both our campuses with numerous international conferences, speaker sessions, workshops and of course, our annual alumni homecoming Solstice!
MORE >>

 
As I check in on www.solsticebegins.in the clock shows just 20 days for Solstice. Our class has been labeled a studious bunch and for good reason, we certainly are.
MORE >>




When I'm asked about women in the workplace, gender equality and glass ceilings, I often find myself faced with a duality of external perceptions and my own. On the one hand, the world media, women's groups, governments, etc. feel the need to carve out a space for women to be seen, heard or spoken of. That's good to a certain degree as a common interest group but let's not deepen the divide – anyone who needs that kind of help is probably underprivileged...
MORE >>




ISB alumni are making their mark in diverse businesses around the world. In this issue, four such remarkable alumni, Bharath Aiyer Shruti Sharma, Suparna Chopra , Ganesh Vudutha talk about their lives at the ISB, career path after graduation and vision for the School.
MORE >>

Welcome to the latest section of Alma Matters "Bookshelf" - a platform where people can share their comments, feelings and thoughts about various books they read. From business and economics to SCI-FI, thriller and comedy...
MORE >>