To be an internationally top-ranked*, research-driven, independent management institution that grooms future leaders for India and the world.




Updates and Information on upcoming events from the alumni association.
MORE >>


Class of 2004
Shyam Murali got married to Shwetha Ayyar on December 09, 2012

Class Of 2007
Varun Narayan and Manisha were blessed with a baby boy on December 12, 2012

Class Of 2009
Nishita Mehta and Sahil Aggarwal were blessed with a baby boy on November 12, 2012
MORE >>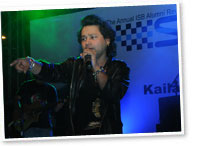 December has always been a super busy month at School, and this December was especially so, what with programs being launched, B plan competitions, a new campus opening and of course the alumni


Welcome to the latest section of Alma Matters "Bookshelf" - a platform where people can share their comments, feelings and thoughts about various books they read. From business and economics to SCI-FI, thriller and comedy...
MORE >>




ISB alumni are making their mark in diverse businesses around the world. In this issue, four such remarkable alumni, Gautam Gadgil, Megha Kapoor, Anish Jain, and Abhijeet Malan talk about their lives at the ISB, career path after graduation and vision for the School.
MORE >>

Are M&As about empire-building or are they based on a rational motive? What is the fate of the acquired assets after M&As? This article, based on a research paper entitled "Post-Merger Restructuring and the Boundaries of the Firm"
MORE >>