The Alumni Endowment Fund was started in 2010, seeded jointly by the Co 2004 and Co 2010. Later, the Co 2011 also contributed towards it as part of their class gift.
MORE >>



Updates and Information on upcoming events from the alumni association.
MORE >>



Class of 2006
Deepak Bahree and Shefali Mehta had a baby girl Shreya.

Class of 2010
Lisa Jain got married to Varun Backliwal on December 18, 2011 MORE >>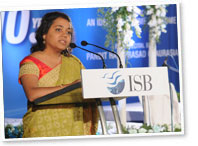 December has always been a super busy month at School, and this December was especially so. The ISB Leadership Summit (ILS) was held on December 2nd & 3rd, 2011...
Around me swayed the alumni, present students and professors, celebrating ten years of ISB, at the concert to commemorate Solstice 2011, the annual alumni event.
MORE >>




ISB alumni are making their mark in diverse businesses around the world. In this issue, four such remarkable alumni, Sumeet Salwan , Venu Gorti , Rohal Dayal and Prakash Iyer (PGPMAX Founding class) talk about their lives at the ISB, career path after graduation and vision for the School.
MORE >>

To be an internationally top-ranked*, research-driven, independent management institution that grooms future leaders for India and the world.