Chart the course to the future
Google Maps and India


To bring all of its citizenry online, Google has revamped its approach to India, the second largest mobile search market in the world. From partnering with the Indian government and industry to provide high speed Wi-Fi at 400 Indian railway stations to using India as a way to test new global product designs, Google has clearly indicated its intent with regard to India in its overall game plan.

Google Maps and its focus on India exemplify Google's efforts to improve access and make web content regionally relevant in the country. Real-time navigation is fast replacing the age-old practice of stopping frequently to ask passersby for directions; in this, Google Maps has played a path-breaking role across the globe. Is Google maps disrupting the transportation industry? Will it be a key enabler in the growth of Smart Cities in developing economies? We put these and other questions before Suren Ruhela (Class of 2006), Director, Google Maps.


In his time at Google in Mountain View, California, Suren has worn many hats in service of Google's mission of organising the world's information and making it universally accessible. He focuses on making Google Maps more relevant for emerging markets and has been involved in introducing key enhancements for Google Maps in India.

What does it take to be hired and to progress at a company like Google?

Google cares about many things in a potential Googler: role-related knowledge, the ability to innovate, take initiative and deal with ambiguity, and a bunch of qualities from the cultural fit perspective. Cultural fit — summed up as "googliness" — is as important as other core skills required for the job. Hiring is not a majority decision but it is always a consensus-based decision made by experienced and senior folks who collectively believe that a candidate is the right hire for Google.

Google has a meritocratic culture, and it is the impact created by an individual's work that matters the most. This simple rule helps in keeping all employees focused on the impact their products and projects will have on Google's users.

Can you talk about your experience at Google and your professional journey thus far?

I joined Google about eight and a half years ago, and it has been a fantastic journey so far — full of learnings, opportunities to work with really smart people and opportunities to work on products like Google Maps, which touch the lives of hundreds of millions of people every day. I have enjoyed every bit of it.

What motivated you to take up this role?

My current role is focussed on making Google Maps more relevant for countries with huge populations coming online for the first time, such as India, Brazil, etc. These markets are witnessing rapid growth in urbanisation, traffic and mobility of people across cities. Thanks to the unprecedented growth of smartphones, products like Google Maps are uniquely positioned to help millions of people in these countries easily find information about places and how to get there. With my deeper knowledge of these countries, their infrastructure, Internet ecosystems and unique needs of people, I felt that I could add a lot of value in this role.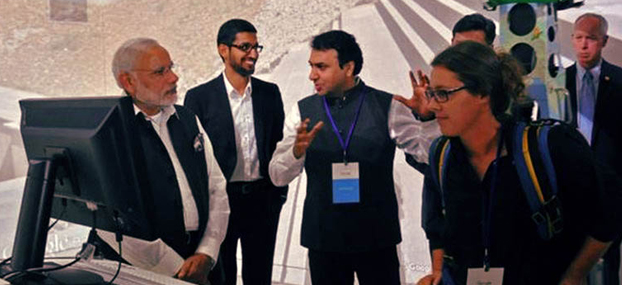 Suren Ruhela performs a product demonstration for PM Narendra Modi during the PM's visit to Silicon Valley in September 2015.


Can you share few details about the Maps ecosystem? Did Maps create a new market
altogether? Was Maps conceived to disrupt the transportation industry?

Smartphone-based map applications serve a wide range of consumer and enterprise needs. With an ever-changing urban landscape that includes small and medium businesses, residential developments and intercity connectivity, the need for information about places, the best way to get there and the available commute options has emerged as a common theme across the socio-economic spectrum.

So in a way, Maps is addressing these emerging needs in a much more efficient way. One of the ways in which Maps helps people is to choose from various transport options. It is important for transport players such as metro rail and city bus operators as well as cab companies to deploy technical solutions based on maps to provide updated information to their customers so that these customers can make the best choices from the available commute options.

However, if you look at Google Maps, it offers many more features beyond commute scenarios and it essentially helps people explore the world around them. So it has opened lot more possibilities and in a nutshell, mapping apps complement the transport industry in many ways and help its users.

You spearheaded several new initiatives under Google Maps for developing economies.
Can you talk about a few of them?

The objective of Google Maps team is to make maps increasingly relevant for people in places like India. At the core of our initiative is the fundamental realisation that these markets have different infrastructural challenges — for instance, the cost of connectivity is relatively higher, wireless speeds are relatively slower, and phone specs are still on the lower end compared to advanced countries — and needs of people are also different as well.

Some of our features like Offline maps are inspired by strong needs of these places to have products which work seamlessly in intermittent and even in no-connectivity scenarios which are quite common in places like India.

People living in a locality or city have the best knowledge about a place and from early on, we developed means to engage local community in keeping our maps and local data updated. Products like Map Maker and programs like Local Guides are great examples of how these initiatives have scaled and became really popular around the world.

What are the specific challenges that Google Maps has faced and how you were able to address them, especially in emerging economies such as India, Brazil etc.? How does Google Maps keep up with the ever-evolving urban landscape?

As I mentioned, there are many fundamental differences between places like US and UK where map applications became popular a few years ago and developing countries such as India in terms of the way cities are structured.

As an example, If you look at India, very few streets have names, and among those that do, the street names are rarely displayed prominently. So if you tell a Google Maps user to take a left at X street and if the street name is not displayed clearly, it is hard for user to follow that navigation guidance. Our user studies suggested that Indians tend to use landmarks as important reference points in giving directions to a place.

To incorporate this unique insight in our product, Google Maps launched landmark-based navigation in India few years ago. Thus, Google Maps will tell you to take a left at, say, a particular ATM or a clinic that is clearly visible on the street rather than rely on a street name.

We have launched voice guidance in an Indian English accent and even in the Hindi language. These are a few examples of how are we making Google Maps more and more relevant for Indian users.

We know Google Maps has become quite ubiquitous in our day to day life; can you share some insights/ success stories on how Maps has transformed companies or industries and individuals?

Across the world, more than a billion people and millions of websites and enterprises use Google Maps on a regular basis. The stories we hear from our users are highly motivating, and we feel great about working on a product that has such tremendous relevance in people's daily lives. Preventing someone from getting lost, helping someone find a relatively nondescript village in rural India, helping businesses connect with their customers by using Google My Business and seeing enterprises use Google Maps applications in unique ways.

With artificial intelligence (AI) and automation taking centre stage in the US and given the focus on "Digital India" and skill building, what area/s do you feel India should focus on to take advantage of its demographic dividend (i.e., creating jobs for the masses)? In other words, what are the jobs that are going to become obsolete in the next decade and the capabilities we need to build for the new millennium?

I am personally very excited about initiatives like "Digital India" and "Skill India," which are quite path-breaking in their vision and will shape the future of India over the next decade.

I strongly believe that access to information is the first step towards a better informed and more empowered society and also towards good governance. Digital India is a great initiative to ensure digital connectivity and the empowerment of people through access to information.

With a strong infrastructure for technical education and a large, young workforce, India is uniquely positioned to not only strengthen its own economy but to also help the rest of the world, which can leverage its skilled workforce, especially in the technical domain.

While the number of technical institutes has grown manifold in the last few years, it is important that quality standards are maintained in technical education so that the graduates of these institutions are not only academically qualified but also readily employable in relevant industries. Skill India is a great initiative to ensure that the human workforce moves from manual intensive jobs (these areas will see rapid technical adoption/ automation) to high productivity jobs.

Many cities are exploring Internet of Things (IoT) and other technologies to become smarter. In India, the government has identified 20 cities that are to receive central funding. Is Google working with the Indian government to make Google Maps the foundation technology for smart cities (whether it be for traffic management or laying new infrastructure)? Please share some of the initiatives within Google that are part of the Smart Cities push.

Smart Cities is a great initiative to improve the quality of life in these cities and the resilience of urban infrastructure to withstand the pressures of growing urbanisation as well as natural and manmade disasters.

Google India is working closely with government agencies on key initiatives like Digital India. For example, we have made a huge commitment to provide high-speed, free Wi-Fi at 400 railway stations so that millions of people can get the experience of high-speed Internet connectivity.

Helping Indian entrepreneurs through our "Google for Entrepreneur" efforts is another way in which Google is playing a role in developing the online ecosystem.

We will continue to look for more such opportunities to engage with the government and industry.

What are some of the collaboration opportunities the ISB can explore with Google, from both the research and new programme perspectives?

As a premier management institution, the ISB has the ability to attract industry leaders to participate in forums such as the ISB Digital Summit where Google can be a thought partner. Google India is committed to grow the Internet ecosystem in India, and initiatives such as "Helping Women Get Online" and "Google for Entrepreneurs" may provide ISB and Google with opportunities to collaborate as they seem to be common areas of interest.

How does Google Maps fit into India's story and campaign for improving digital access?

Digital access is a means to get access to information that has the potential to transform society and bridge the inequality gap. Google Maps is a great source of rich information about a wide range of places — businesses, tourist destinations, cultural and historical sites, and big and small cities and towns. And it's absolutely free! Through satellite imagery, photos, reviews, floor plans and 360-degree virtual tours, people are able to get relevant information about their destinations on their fingertips. It helps people make better and faster decisions. It helps small and medium enterprises (SMEs) extend their reach to potential customers with no geographical barriers.

Who were the biggest influences on you personally in your journey?

Different people have inspired me at different phases in my life. My family comes from a small village in Rajasthan. My father was the first person in his village to go to an engineering college. He defied many odds to rise to be an industry expert. He has been my role model because of his indomitable spirit. Like a super hero for millions of his fans, great Indian cricketer Sachin Tendulkar inspired me through his pursuit of excellence.

What are the major takeaways from ISB which transformed your way of thinking?

The year I spent at ISB was a pivotal year for me in many ways. Making a career switch from a telecom professional in the government sector to a management consultant in the competitive private sector was nothing less than a "super stretch target". The curriculum played an important role in allowing me to acquire the relevant knowledge, and my diverse and talented peer group helped me gain knowledge of diverse functions (which is required for a leadership role) in a subtle and often unconscious manner. I was able to leverage many of these learnings in my post-ISB professional journey to learn quickly and excel in various roles.





This interview was conducted by Shivaraaj Kotini (Class of 2016). Before graduating this April, Shivaraj was the President of Business and Technology Club at ISB. He will be joining Microsoft in a product management function this summer.