Ajitesh Sharma

Class of 2008
Atiksh Entertainment (P) Ltd & Technofire Engineers (P) Ltd
Managing Director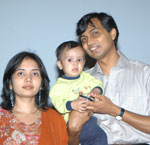 Sector
: Industrial Fire & Safety Consulting, Film Production & Media Consulting Total Work
Experience
: 5 Years
Personal Interests
: Filmmaking, Video Games, Books
Ajitesh Sharma, from the Class of 2008, says the ISB boosted his confidence level and the hard work in the courses prepared him for taking the path less travelled.
Tell us about yourself – your profile, recap your professional life after ISB including your career progression

I was born & brought-up in Gwalior. Prior to the ISB, I did my bachelors in Mechanical Engineering and M.Tech in Production Engineering. I then worked as a scientist at Vikram Sarabhai Space Centre, Indian Space Research Organization (ISRO) for around three and a half years. At the ISB, I was awarded the ISB Admissions Scholarship, Tata Motors Scholarship, ISB Torch Bearer award and Best ELP Award.

Post ISB, I worked as a Senior Manager at Big Pictures (Reliance Big Entertainment Pvt Ltd) for an year. Currently, I am managing my start-ups, Technofire Engineers Pvt Ltd and Atiksh Entertainment Pvt Ltd. I am based in Indore and am married with a 3 year old son.

In my short career so far, I have worked in all three possible career streams: Public Service, Private Service, and my own Business. My experiences in these three spheres have proved to be invaluable and are immensely helpful in my decisions.

What was your key takeaway from the ISB?

If you can dream it, you can achieve it. The case studies of present day corporate giants who started out as small entrepreneurs further reinforced my belief of making it big. There is no right time for anything; time is what you make of it. If you believe you can do it then you should do it, and do it the right way. The ISB boosted my confidence level and the hard work in the courses prepared me for taking the path less travelled.

Tell us a little bit about your 'Dual entrepreneurship' ventures

This could also easily be the answer of question 2 – Key take-away from the ISB. The ISB prepared me for multi-tasking and when I was thinking of starting two companies in totally different sectors, I did not have any second thoughts.

I always wanted to start my own business but waited for a year after the ISB, to get hands on corporate experience. Another reason was to see Bollywood's business side from the right position and as closely as possible. That experience later helped me in establishing my entertainment business.

I am a technocrat from my education and majority of my experience was also as scientist. There was every chance that whenever I started a business, it would be engineering based. Meanwhile at the ISB, I made my first feature film 'Once Again'. It was a film based on the theme of entrepreneurship and although it was amateurish and I didn't have any previous experience in films, it ended up being selected at 5 international film festivals in Egypt, Ireland, UK, South Africa, and Mexico, even winning an award in Mexico. With most of my experience being in engineering and my passion and management experience in films, I had no doubts or thoughts that I wanted to start two businesses.

I started Atiksh Entertainment Private Limited, an entertainment company mainly operating in filmed entertainment. My first client was the Film Federation of India, for whom I served as a Curator at the Global Cinema Festival, perhaps the youngest curator ever.

I also started Technofire Engineers Private Limited, an industrial consulting and supply company mainly operating in fire safety. For developing the required competence, I completed the Safety Auditor course from Central Labour Institute, Mumbai and International Fire Service Inspector course from Fire service College, UK. I am the only government approved safety auditor in Madhya Pradesh and perhaps the only one competent to do fire audits. The company has so far many big clients, such as Tata International, Godrej, Crompton Greaves, HPCL, and IOCL besides others.

With two companies to run, how did you manage your time?

Talking of Time Management, it was very tough initially setting up both the companies together. Creating infrastructure, clearing legal formalities, recruiting the right manpower, that was a tough time. But it eased out later as I recruited the right people for the right jobs, which reduced my burden.

One advantage for me is that films are my passion and whatever time I have to spare, I always plan and think new projects, so I am doing business even in my spare time.

What is your vision for the School?

I want ISB to be the only B-School that produces managers, who make the Earth a better place to live, not only a better place to earn. I mean people who contribute in the 360-degree development of mankind and not only in economic development.

What are the strengths that the School can leverage upon and areas it can improve?

The school's main strength is its global brand, which has developed over the years; now is the time that it should be leveraged upon to make ISB the best among best.

An area of improvement is development of entrepreneurs. If somebody conducts a study, it can be easily proved that more than 75% of entrepreneurs from B-schools start their first venture in IT. Most of the ventures are website based, because they are easy to conceptualise and start. At the same time another study could easily prove that these ventures mostly have very short life and only few of them have the potential to be scaled up. There are lot of other fields where B-school graduates could focus when they are thinking of entrepreneurship after MBA. ISB can plan something in this direction.

What do you think is the alumni's role in building the school?

Alumni are the ones who represent the school in the real world. In this sense alumni are the eyes through which others see the school. Alumni should associate with the school in a variety of ways: mentoring new batches, helping in the recruitment process, and exploring new opportunities of brand building for the school.<

What is the area you can contribute in?

I can contribute by mentoring new batches in the fields of entertainment (especially films) and /or industrial consulting (this is entirely different from strategic consulting or technology consulting, which are already popular among all batches). This would ensure new opportunities and new areas for the students.