To be an internationally top-ranked*, research-driven, independent management institution that grooms future leaders for India and the world.



Updates and Information on upcoming events from the alumni association.
MORE >>


Founding Class
Bijai Jayarajan's company Loylty Rewardz has won Asia's most prestigious award - Red Herring Top 100 Asia 2012

Class Of 2006
Pranjal Jain and Ridhi were blessed with a baby boy on September 24, 2012

Class Of 2007
Viren Vijayshankar got married to Carol on August 18, 2012.
MORE >>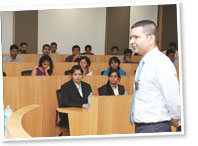 We are halfway through the academic year and the Class of 2013 has started gearing up for the elective terms! Many thanks to all the alumni who volunteered for the student...

The term started with two words "motivation" and "intuition" and in a Managerial Economics class! So fascinating that what we thought would be just numbers, turned out to have an "intuitive" element as well.
MORE >>




Welcome to the latest section of Alma Matters "Bookshelf" - a platform where people can share their comments, feelings and thoughts about various books they read. From business and economics to SCI-FI, thriller and comedy...
MORE >>



ISB alumni are making their mark in diverse businesses around the world. In this issue, four such remarkable alumni, Sipika Singh, Chandrashekar Subramanian, Venkatesh Adavi talk about their lives at the ISB, career path after graduation and vision for the School.
MORE >>

For centuries, educators followed the basic premise that teaching was simply a glorified version of "telling", and called it lecturing. The assumption was that by listening to the lecturer, learning would take place.
MORE >>