To be an internationally top-ranked*, research-driven, independent management institution that grooms future leaders for India and the world.




Updates and Information on upcoming events from the alumni association.
MORE >>



Class of 2004
Mihir Modi has been appointed as Chief Finance & Strategy Officer at Zee Entertainment Enterprises Ltd.

Class of 2008
Mrinal Arora and Hitesh Luthra were blessed with a baby boy on October 07, 2013
Shubha Pai and Apoorva Manmohan were blessed with a baby girl on September 07, 2013
MORE >>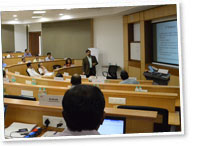 October was filled with colour, celebrations, talks and events at both our campuses. The second edition of Equinox, our annual alumni learning and networking event was a great success!
MORE >>

 
Term 5 has begun and change is in the air at ISB! Sections are a thing of the past (but section love persists fiercely). Focus on academics has given way to a focus on placements. There are very few moans and groans about classes – everyone is finally doing what they enjoy (i.e., no more INVA and DMOP for the mathematically-challenged and no more "Faff" for the number-crunchers!).
MORE >>



By Krishnamurthy Subramanian - Assistant Professor of Finance, Prasanna Tantri - Associate Director, CAF

Higher economic growth increases winning chances of ruling party candidates, especially in states with more literate voters.
MORE >>




ISB alumni are making their mark in diverse businesses around the world. In this issue, four such remarkable alumni, Vikram Mago, Samir Patel, Saravanan Nattanmai and Sayan Dutta talk about their lives at the ISB, career path after graduation and vision for the School.
MORE >>
Welcome to the latest section of Alma Matters "Bookshelf" - a platform where people can share their comments, feelings and thoughts about various books they read. From business and economics to SCI-FI, thriller and comedy...
MORE >>