To be an internationally top-ranked*, research-driven, independent management institution that grooms future leaders for India and the world.




Updates and Information on upcoming events from the alumni association.
MORE >>



Class of 2004
Cherry Pachisia and Amit Anand (Class Of 2005) were blessed with a baby Girl on March 17, 2013.

Class Of 2005
Nitin Jain and Shanu Jain were blessed with a baby Girl on February 22, 2013

Class Of 2007
Gagandeep Grover and Radhika were blessed with a baby Girl on March 07, 2013
MORE >>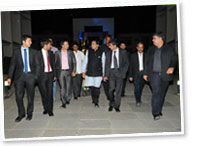 March is always a month of anticipation..of nostalgia and of excitement. The Class of 2013 is all geared up to graduate in about a week's time and they will then formally enter the alumni fold...
MORE >>


Welcome to the latest section of Alma Matters "Bookshelf" - a platform where people can share their comments, feelings and thoughts about various books they read. From business and economics to SCI-FI, thriller and comedy...
MORE >>


The corporate world today wants everyone to be a leader. We are scared to call a manager a manager. We are even scared to call a newbie a newbie! Everyone is on his way to becoming a leader or is already there.
MORE >>




ISB alumni are making their mark in diverse businesses around the world. In this issue, four such remarkable alumni, Koreel Lahiri , Mahesh Yellai, Abhimanyu Agarwalla, and Sanjiv Bhagat talk about their lives at the ISB, career path after graduation and vision for the School.
MORE >>