To be an internationally top-ranked*, research-driven, independent management institution that grooms future leaders for India and the world.




Updates and Information on upcoming events from the alumni association.
MORE >>



Class of 2004
Rajkumar Gopalan got married to Soraya Adib.

Class of 2008
Glen Serrao and Renita Rodrigues were blessed with a baby girl on January 13, 2015.
Class of 2009
Sumit Punjabi got married to Garima Sahney on January 24, 2015.
MORE >>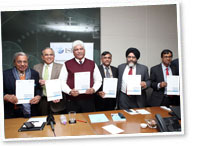 We hope you've had an excellent start to the New Year!
Here, at the ISB, we have been immersed in the Placements season and strategic planning for the upcoming year.
MORE >>

Welcome to the latest section of Alma Matters "Bookshelf" - a platform where people can share their comments, feelings and thoughts about various books they read. From business and economics to SCI-FI, thriller and comedy...
MORE >>



ISB alumni are making their mark in diverse businesses around the world. In this issue, four such remarkable alumni, Samir Mehta, Sameer Bora, and Raj Kumar talk about their lives at the ISB, career path after graduation and vision for the School.
MORE >>



Get prospective students to download the 'ISB 360!'
mobile app