The Alumni Endowment Fund was started in 2010, seeded jointly by the Co 2004 and Co 2010. Later, the Co 2011 also contributed towards it as part of their class gift.
MORE >>




Updates and Information on upcoming events from the alumni association.
MORE >>



Class of 2004
Tarun Gadhok and Sonal Surana were blessed with a baby boy on January 4, 2012.

Class of 2008
Deepak Chembath and Athira were blessed with a baby girl on January 22, 2012.
MORE >>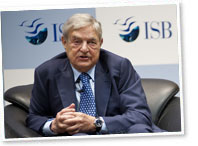 The new year started with a great event on campus. The Centre for Emerging Markets Solutions (CEMS) hosted George Soros, the legendary investor and Chairman of Soros Fund Management...

As you walk the ring road, there is an eerie silence, For the next couple of months will pass in a flash...
MORE >>



I have always been the wondering type. You know the type who move through life in a state of "hypnotic somnambulism,"unaware of everything including themselves? Years of training, cajoling, advice and guidance from parents, husband, relatives...
MORE >>




ISB alumni are making their mark in diverse businesses around the world. In this issue, four such remarkable alumni, Sujith Maroli , Swastika Nare , Anuradha Kedia and Nishant Gogia talk about their lives at the ISB, career path after graduation and vision for the School.
MORE >>

To be an internationally top-ranked*, research-driven, independent management institution that grooms future leaders for India and the world.