To be an internationally top-ranked*, research-driven, independent management institution that grooms future leaders for India and the world.



Updates and Information on upcoming events from the alumni association.
MORE >>


Class of 2006
Neeraj Arora has been mentioned in "5 incredibly successful Indians you should know of".

Class of 2008
Kuljit Chadha and Subramanian V's Harness, an education technology start-up finished second at the finals of the Open Education Challenge held in Barcelona. Harness was the only team in India and only the second team in Asia that made it to the finals from over 600 education start-ups globally.
MORE >>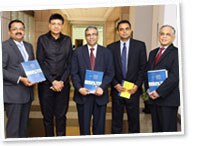 It's August and the end of term 3 for the Class of 2015. The first MFAB class is set to complete their coursework in the coming month, and the PGPMAX Class of 2014 is also almost done...
MORE >>


B Schooled Episode # 3 
Time Machine
Let me begin with an unheard of, life-changing quote: "Time and tide wait for no one." Now that I have got everyone's undivided attention, let me elucidate. The reason why "time" is important is that time is the main ingredient of the one thing that sets apart highly evolved carbon life forms – memories. Think about it. If the notion of time didn't exist, memories would be unheard of.

A Glimpse of the Happenings at Man-Ops Club
The MAN-OPS Club presents you its quarterly newsletter, SNAPSHOT. Through this initiative we will cover all the activities that the club organized in the last three months with a glimpse of what we plan to do ahead. We present you the 1st edition of SNASHOT and hope you enjoy it!
MORE >>




ISB alumni are making their mark in diverse businesses around the world. In this issue, four such remarkable alumni, Pankaj Poddar, Aditya Maheswaran, Pradeep Somu and Dilipkumar Khandelwal talk about their lives at the ISB, career path after graduation and vision for the School.
MORE >>


Get prospective students to download the 'ISB 360!'
mobile app



Welcome to the latest section of Alma Matters "Bookshelf" - a platform where people can share their comments, feelings and thoughts about various books they read. From business and economics to SCI-FI, thriller and comedy...
MORE >>