To be an internationally top-ranked*, research-driven, independent management institution that grooms future leaders for India and the world.




Updates and Information on upcoming events from the alumni association.
MORE >>


Class of 2008
Swaroop Krishnamurthy and Indrani were blessed with a baby girl.

Class of 2009
Varun Gupta and Swati were blessed with a baby girl.
Class of 2013
Ankit Vashishtha got married to Jyoti Bhardwaj Vashishtha on April 07, 2014.
MORE >>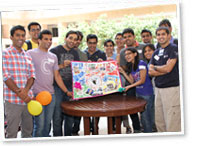 April, as always was a busy month for the School- a month of festivities and new beginnings. The PGP Class of 2014 and PGPMAX Class of 2013
MORE >>


Column: Is high voter turnout anti-incumbent?
Prasanna Tantri, Associate Director - Career Advancement Services at ISB.
A 1% increase in turnout is associated with reduction in incumbent's vote share by 0.3%
High voter turnout, or the lack of it, is one of the hot topics of debate in the period between election and counting day. Conventional wisdom has it that a significant increase in voter participation is bad news for the incumbent party.
MORE >>




ISB alumni are making their mark in diverse businesses around the world. In this issue, four such remarkable alumni, Srinivasu Satti , Manisha Gudka, Chandrasekhar Goda and Lalit Sankrani talk about their lives at the ISB, career path after graduation and vision for the School.
MORE >>

Welcome to the latest section of Alma Matters "Bookshelf" - a platform where people can share their comments, feelings and thoughts about various books they read. From business and economics to SCI-FI, thriller and comedy...
MORE >>