To be an internationally top-ranked*, research-driven, independent management institution that grooms future leaders for India and the world.




Updates and Information on upcoming events from the alumni association.
MORE >>



Founding Class
Ajit Andhare has been roped in by Viacom 18- one of India's leading entertainment industries, to head its Motion Picture Business as the new Chief Operating Officer.

Class Of 2008
Manik Gupta has been recognized as one among the 8 Most Prominent Indian Faces In Google
MORE >>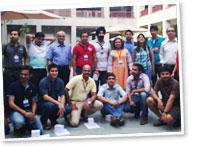 April has always been a month of celebrations and new beginnings, here at the ISB. The PGP class of 2013 and PGPMAX Class of 2012 had their graduation ceremony on April 06 ...
MORE >>


This article illustrates how computer based instructional simulations can disseminate knowledge of basic management practices to SMEs.
MORE >>




Welcome to the latest section of Alma Matters "Bookshelf" - a platform where people can share their comments, feelings and thoughts about various books they read. From business and economics to SCI-FI, thriller and comedy...
MORE >>




ISB alumni are making their mark in diverse businesses around the world. In this issue, four such remarkable alumni, Abhinav Ashok Somani , Yannick Even , Sagarika Chakraborty, and
S Lakshminarayanan talk about their lives at the ISB, career path after graduation and vision for the School.
MORE >>