To be an internationally top-ranked*, research-driven, independent management institution that grooms future leaders for India and the world.




Updates and Information on upcoming events from the alumni association.
MORE >>


Class of 2003
Arjun Srinivasan and Suvasini were blessed with a baby girl on March 11, 2012.

Class of 2004
Saurabh Khanna authored a book Tussi Lahore Ton Ho? (Are You From Lahore?), that has been published by E U Sarl.
MORE >>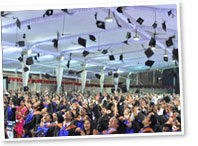 April is a month of celebrations and of new beginnings, a month where the old move over and the new take their place The entire ISB community feels an almost paternal...

On February 15, one of my dreams came true. I was offered admission in the Post Graduate Program in Management at the ISB's Mohali campus....
MORE >>




When I left the ISB campus after graduation day, I did not feel the pangs of leaving unlike what a lot of my friends did. I secretly knew that I would be back the following week on the pretext of Orientation...
MORE >>




ISB alumni are making their mark in diverse businesses around the world. In this issue, four such remarkable alumni, Kedar Lele, Ajit Kalyani, Aman Raza Khan, and Padmaja Bayyavarapu talk about their lives at the ISB, career path after graduation and vision for the School.
MORE >>