Can't read this email? View in browser

Health Matters is the quarterly newsletter of Max Institute of Healthcare Management (MIHM) and curates the latest healthcare-related research and events at ISB.
In this edition of Health Matters, we bring you stories of how our alumni have been leading the fight against the pandemic through some of their pioneering startups and initiatives. We feature the transformational stories of six alumni doctors who we spoke to on Doctor's Day. We also cover the impact of research with stories on the development of a flexible cost-effective vaccination model, tech-driven impact in small and mid-sized hospitals, financial incentives-based disease management in urbanising areas, upcoming events, and more. Happy reading!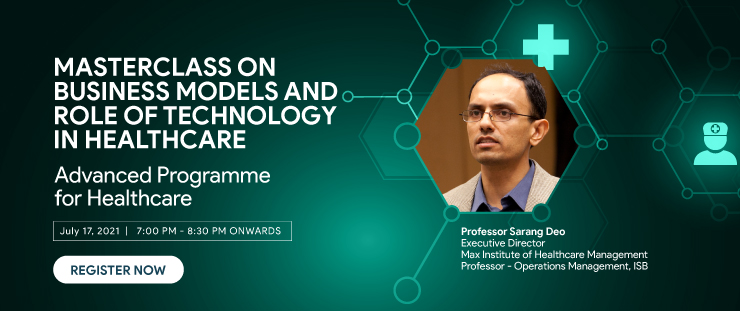 #DOCTORSOFISB
| | |
| --- | --- |
| Watch the tribute video where we celebrate doctors from ISB and beyond. You can also read six inspiring stories about alumni doctors who have transformed their careers to management, entrepreneurship and more. | |
ALUMNI BUZZ
Leading the fight against COVID-19: Alumni initiatives
ALUMNI STARTUPS
Dr. Sateesh Kumar
Thammiraju, AMPH Co 2020
cofounded EMedSavers for
tele-ICU monitoring for
COVID-19 patients at home

Dr. Marur Sujeer Basha,
AMPH Co 2020 founded
Aryam Healthcare that offers
traditional home healthcare
services across Hyderabad

Dr. Ramesh Maturi, AMPH Co 2020 cofounded Cancer Care India Consortium that works for cervical cancer screening in public health domain
ABOUT US
Max Institute of Healthcare Management (MIHM) is an interdisciplinary research centre at the Indian School of Business (ISB) that provides deep insights on healthcare delivery and management to policymakers, public institutions and corporates, and enables the creation of better health systems through the integrated elements of Research, Education and Outreach. Its focus areas are (a) Managing healthcare delivery systems, (b) Financing and public policy, (c) Innovation and entrepreneurship, and (d) Patient-centricity.
Write to us at maxinstitute@isb.edu.
Max Institute of Healthcare Management
Indian School of Business
Copyright © 2021. Indian School of Business.