HIGHLIGHTS OF THE QUARTER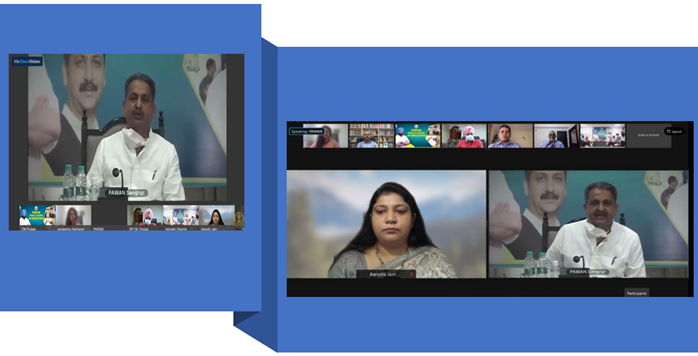 Punjab Education Minister Launches E-Training Module Developed by Bharti Institute for Principals of Government Schools
Education Minister, Punjab, Vijay Inder Singla presided over the live virtual event organised by the Government of Punjab and livestreamed across the schools in Punjab to inaugurate the asynchronous e-learning training module on 'Leadership & Motivation for Effective School Management' on July 16. The training programme, conceived and developed by the Bharti Institute of Public Policy, in collaboration with the Department of School Education, Punjab, aims to train principals, heads and teachers in government schools to be better educational leaders, motivators and communicators; and has been designed with a prior experience of in-person training programmes hosted by the Institute in 2019-2020 for over 1,000 principals and heads of school in the state. This async course will be available for access to 10,000 principals, school heads and lecturers all over Punjab.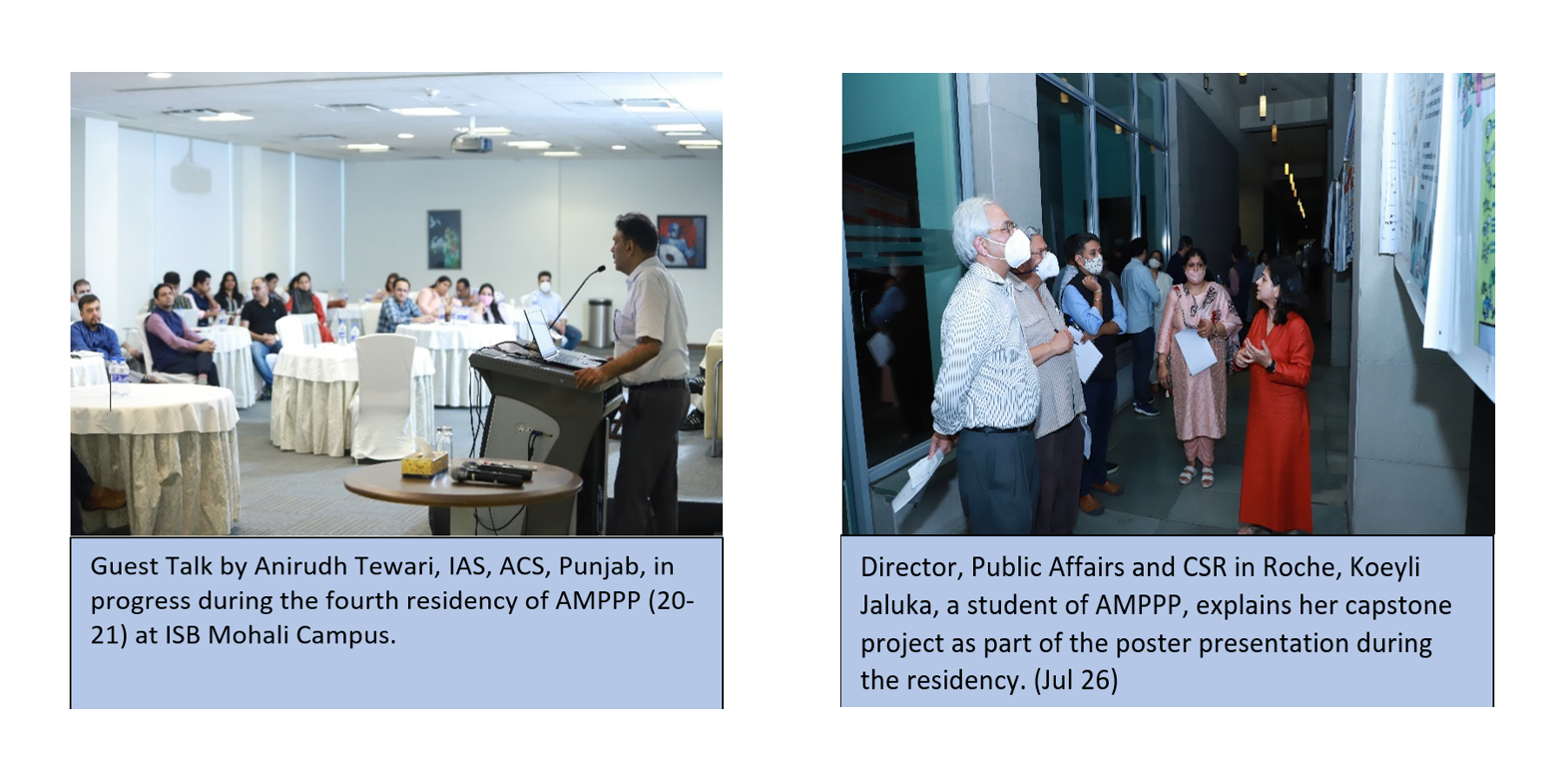 Advanced Management Programme in Public Policy
The AMPPP allows mid-career professionals from public, private and developmental sectors, to interact, learn and deliver in the domain of public policy. The course has been designed to give maximum flexibility to senior professionals by ensuring learning in a hybrid mode, without disruption to regular work schedules.
Updates:
• AMPPP Co'21
The fourth residency of AMPPP batch 2020-2021 was held from July 23, 2021 to August 1, 2021. The residency was held off-campus at Mohali where participants undertook activities and collaborative projects with remarkable zeal and fervour.
• AMPPP Co'22
The first residency of the 2021-2022 batch will begin on August 20. There are 33 participants in the 6th Batch of AMPPP with a balanced participation from Government (IAS, IPS, IRS, IFS, Telecom, Posts, Armed Forces etc.) and Private Sector (Consulting Firms, Banking, Media, Developmental Sector etc.)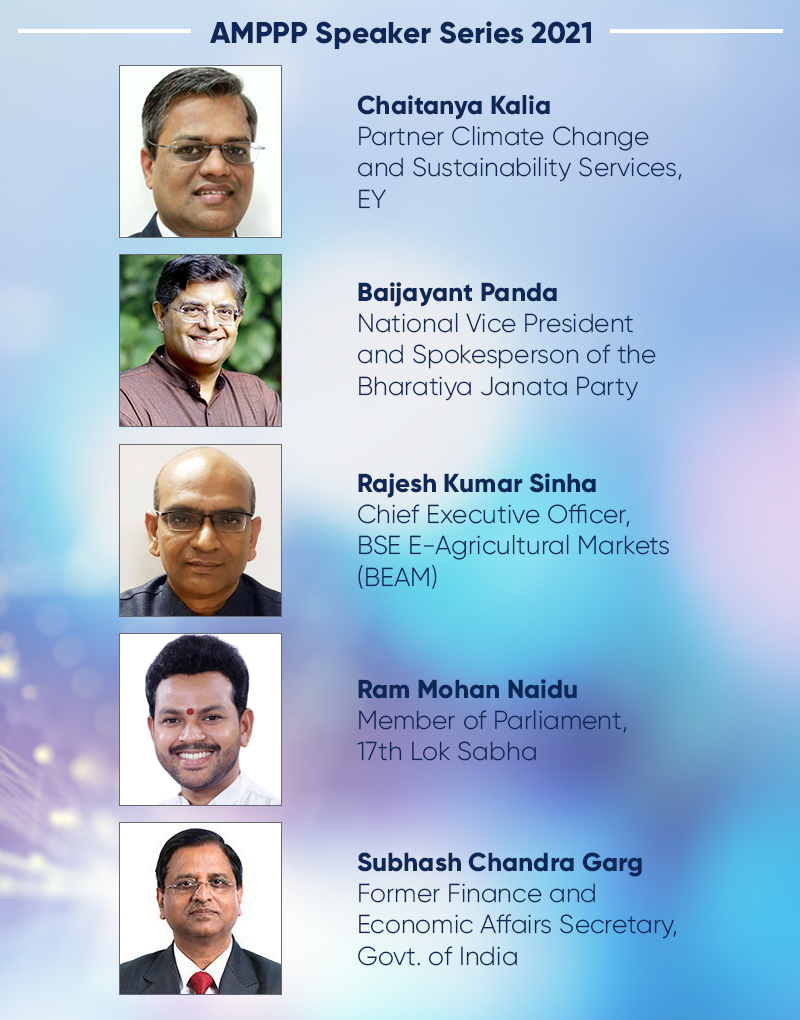 AMPPP Speaker Series 2021
As an initiative of the Advanced Management Programme in Public Policy Cohort 2021, a series of sessions by distinguished policymakers, practitioners and influencers in the domain of public policy, was organised. These sessions help in providing a platform for diversified and detailed interactions with experts from different areas and thereby expanding horizons of learning. The AMPPP cohort 2021 saw five speaker sessions during May-June, 2021.
The series started with Chaitanya Kalia, Country Lead for Climate Change and Sustainability Services at Ernst & Young, delivering a talk on Environmental Social Governance (ESG), followed by BJP's National Vice President Baijayant Panda expressing his views on Post-Pandemic Governance in India. Thereafter, Rajesh Sinha, Chief Executive Officer, BSE E-Agricultural Markets, talked about Exploring Agricultural Markets and challenges in the country's Agricultural Policies, while young Parliamentarian Ram Mohan Naidu shared his insights into policy making and the disruptions caused by pandemic. Former Secretary, Department of Economic Affairs, GOI, Subhash Chandra Garg, IAS (Retd.), focussed his talk on Economic Planning, lessons learnt from Covid, and policy changes required to accelerate economic recovery.
ALUMNI SPEAK

AMPPP's flexible design makes learning easy & enriching. It gives you memorable experience and an opportunity to learn from a diverse set of cohort.
Dr N Vijayalakshmi, Principal Secretary, Government of Bihar

Critical thinking, experiential learning and expertise in comprehensive policy making is what AMPPP inculcates. It is for all those who want to make a difference.
Puneet Balasubramanian, Commander (Strategy, Concepts & Transformation), Ministry of Defence

Put Wind Beneath Your Wings!
There is always more to learn, to adapt, to perform, as water moving is water afresh. For senior professionals, the need for continuous learning grows manifold, believes Neetu Kapasi, a student of AMPPP batch 2020-2021 at Bharti Institute of Public Policy, who is presently leading Corporate Affairs, Public Policy and Stakeholder Relations at IKEA India.

---

Can we still save our 'lost' world?
Student of AMPPP batch 2020-21, Ankit Anand, Deputy General Manager, Strategic Initiatives and Regulatory Policy, Reliance Jio Infocomm raises awareness about the United Nations Decade on Ecosystem Restoration 2021-2030, and emphasises the need for collective action for striving towards sustainability.
AMPPP gives a unique opportunity to public and private sector employees to learn together about emerging technologies that can be used for better governance and management.
Dr Avik Sarkar, Visiting Associate Professor, Indian School of Business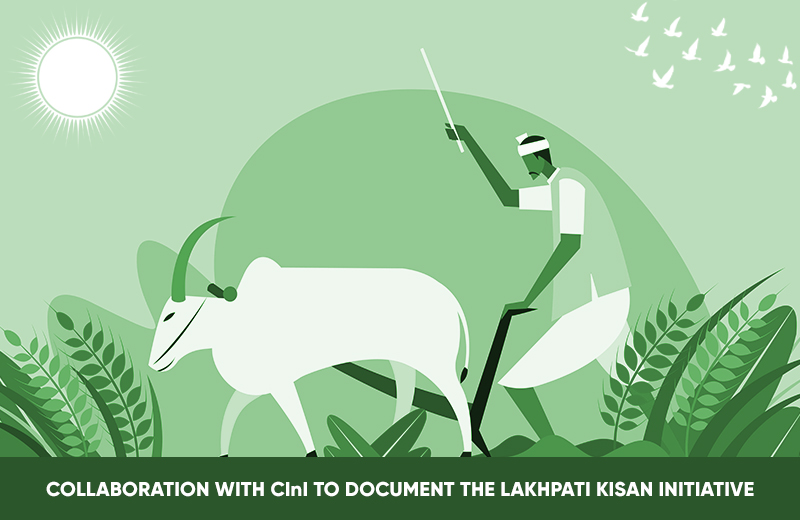 Bharti Institute Collaborates with Collectives for Integrated Livelihood Initiatives (CInI)
Bharti Institute was approached by Collectives for Integrated Livelihood Initiatives (CInI), a programme of Tata Trusts to document the initiative of CInI called Lakhpati Kisan. CInI is one of the flagship initiatives of Tata Trusts that focuses on the tribal belts in the central Indian States. The initiative strives to bring households irreversibly out of poverty with increased life choices. To take forward this mission, CInI an associate organisation of the Trusts, is promoting various livelihood prototypes in agriculture, livestock and non-timber forest produce, and water resource development. In 2015, CInI launched the 'Mission 2020 – Lakhpati Kisan: Smart Villages' programme. A Lakhpati Kisan is one who earns over Rs.100,000 per annum. The programme engages with more than 100,000 households in 12 districts across four states – Jharkhand, Odisha, Maharashtra, and Gujarat. The objective is to bring about irreversible change in the central Indian tribal belt through economic empowerment and improving the quality of life of tribal communities. It documents the process of meeting the aspirations of the small and marginal farmer with increased income by understanding the ingredients, process and challenges involved. The book proposal has been approved by Routledge. Dr. Anjal Prakash, Prof Ashwini Chhatre, Mr Ganesh Neelam and Mr Sujit Kumar are the editors. This book focused on the question – how to increase smallholder farmer's income? Using the experience of the CInI, this book provides insights on the question of increasing farmers' income by investing into different aspects of agriculture production system, farm management and marketing infrastructure. BIPP engaged young interns from different universities of India to be part of the research team which is presently writing up the chapters. The book is expected to be submitted in September for the publication process.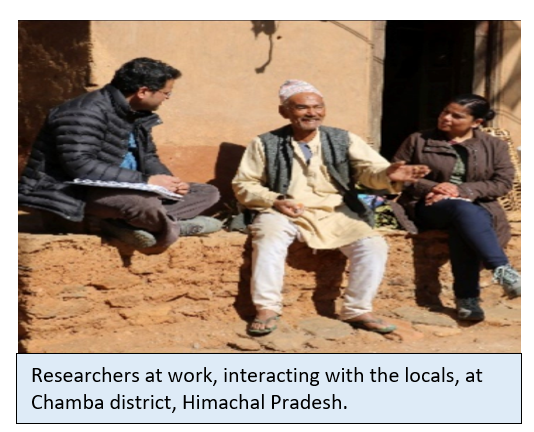 Institutional Networks and Self Adaption (INSA): Tracing the Democratic Architectures of Climate Response - SLU
The Institutional Networks and Self Adaption (INSA) project, funded by the Swedish University of Life Sciences (SLU), was awarded to Bharti Institute on 1 June 2019. The project primarily aims to look at the role of public support system in helping vulnerable rural populations confront the challenges of climate change in India and Nepal. The project has made significant progress in the last two years and continues to build the research to improve the understanding of how multiple actors, institutions, and different forms of state support shape the local response to the shocks of the pandemic and climate change. Led by Dr Harry Fischer and Prof Ashwini Chhatre, the project focusses on documenting the various ways in which COVID-19 and movement restrictions have had an impact on different populations in India and Nepal, and the role of sub-national governance systems in responding to these events. By combining intensive qualitative inquiry with quantitative analysis, the research aims to map networks of interaction through which climate and pandemic responses are developed and implemented on the ground, to understand how adaptation takes place in vulnerable populations through the political channels which enable it. Presently, the quantitative data collection from 480 households (half each from India and Nepal) has been completed and the data-cleaning process is underway.
Comparative Analysis of Regulation of Groundwater in Indian States
The project aims at studying diverse facets of groundwater regulation at the national level and comparing efforts done by various states in this regard. It also focusses on highlighting important policy decisions for well recharge movements and electricity supply for agriculture, and exploring valuable instances of participatory groundwater management in the country. It explored the historical and legal policy framework for groundwater regulation in the states of Andhra Pradesh, Bihar, Uttar Pradesh, Karnataka, Maharashtra and Haryana. The project is being undertaken in the backdrop of the Punjab Water Regulations Bill, 2020, and will help understand and propose significant policy improvement measures for saving the groundwater resources in the state of Punjab, which has over exploited its extraction of groundwater (as shown in visualization created from India Data Portal). The draft report is ready for publication and discussion. The project is being led by Prof Ashwini Chhatre with Prof Anjal Prakash, Prof Aaditya Dar and Noor Kumar as team members.
SEZ in India: Balancing Economic and Ecological Priorities
Mundra SEZ Case Plot
The Environment Ministry had granted a conditional environmental clearance to the Adani Port & SEZ Ltd. after a PIL was filed in the Gujarat High Court by local farmers and activists, that the SEZ construction had led to a huge loss of coastal biodiversity, rendering the local inhabitations vulnerable in the face of natural disasters. The conditions were placed to ensure that the loss to local ecology such as creeks and mangroves along with the loss of livelihoods of local farmers and fishermen were to be mitigated by the Adani Group. While some of the legal issues were resolved in the Gujarat High Court, some parts of the case are ongoing in the Supreme Court.

The case looks at the complex dynamics and interests involved in the creation of SEZs in India. Focussing on the APSEZ in Mundra, Gujarat, it delves into how major industrial development affects local communities and ecosystems, and that how economic interests are often intertwined with ecological costs. The case study also aims to provide the perspective of major corporations and how they deal with environmental clearances and environmental impact assessments in the Indian context. The researchers are working in close collaboration with local Mundra farmers, activists and representatives of the Adani Group, i.e. all stakeholders involved in legal battle for APSEZ development. The case study is in the final phase of completion, under the guidance of Prof Ashwini Chhatre and Dr Aarushi Jain.

By Pranav Garimella, Ripunjaya Kumari & Prof Ashwini Chhatre

Better Reporting on Food and Agriculture Course
The team of India Data Portal, Bharti Institute of Public Policy, has developed an online course on 'Better Reporting on Food and Agriculture' in collaboration with IndiaSpend (media portal dedicated to data journalism). The course is aimed at improving discourse on food and agriculture, and also helping experts navigate through the India Data Portal which is a one-stop destination for open-access data on agriculture, rural development and financial inclusion in India. Dr Aarushi Jain apprises the participants of the course design and structure, while Prof Ashwini Chhatre and Ms Deepti Soni conduct sessions on the state of agriculture and agricultural policies in India, and on India Data Portal datasets and its uses, respectively. Other faculty in the course include Prof Sripad Devalkar, ISB, Prof Sukhpal Singh, IIM-A and Rasagy Sharma, Gramener. Details about the course are here.
JumpStartIndia@ISB Final Presentation Conclave

On May 7, 2021, the Bharti Institute of Public Policy organised a virtual Final Presentation Conclave under the Jumpstart India programme (JSI), an initiative to steer India's post-Covid economic recovery, where ISB faculty, researchers and students of the PGP cohort participated. In this conclave, the teams presented details of their projects like the objectives, research methodology, findings, and recommendations. The JSI initiative has created an impact and has helped governments through evidence-based policy suggestions. Some of the projects have outgrown the JSI umbrella to harness into long-term collaborations with the state governments. For more, read the full report on JSI Final Presentation Conclave here. Also, watch the glimpses of the event here.
Dr Aarushi Jain conducted a session on Communication Skills and Career Prospects under the project 'Mentorship for Meritorious School Students' (JSI) for Class 12 students of five meritorious schools.




Dr Anjal Prakash moderated the 'Business and Policy Dialogue' on ' Climate Change and Glaciers', jointly organised by the Indian School of Business and the British Deputy High Commission in Chandigarh. He also joined the Editorial Board of Journal PLOS Climate.

---

Dr Avik Sarkar presented the Indian perspective on Artificial Intelligence and AI Ethics at an event organised by United Nations, India. He also joined as a panellist at AI Conclave 2021 organised by Dell Technologies, Intel and Microsoft.




As a panellist, Sridhar Kundu presented his research study on the 'Impact of fiscal policies on income distribution in India' at the Online World Congress 2021 organised by the International Economic Association.




---

Prof Avik Sarkar and Dr Aarushi Jain attended the virtual workshop-cum-consultative session on 'National Programme on Artificial Intelligence'. Its primary goal was to discuss the insight and way forward for the NPAI, initiated by MeitY, GOI.




---

To know more about the intellectual engagements of our faculty and researchers during May-July 2021, click

here

.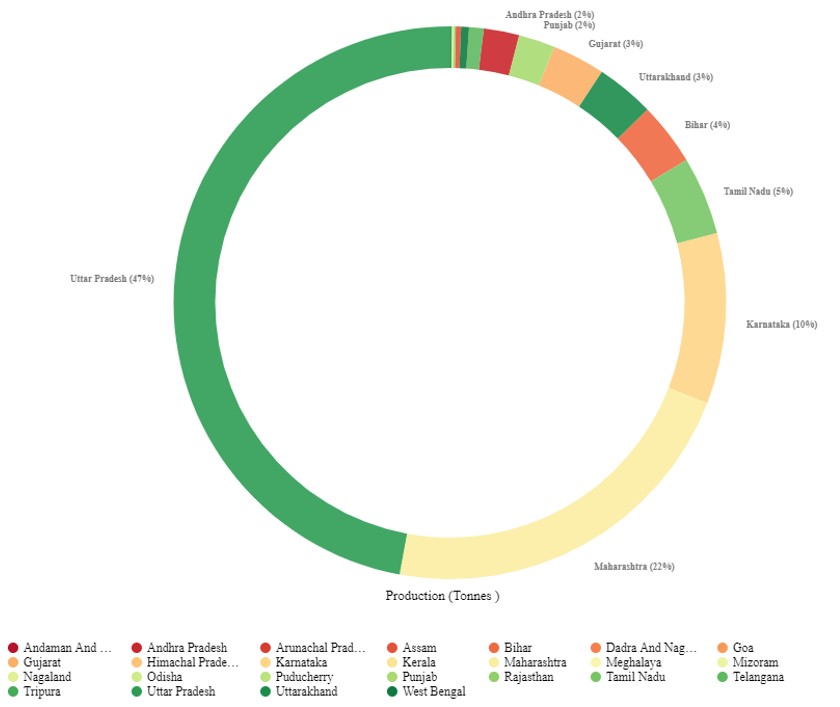 Sugarcane production in India has been historically profitable, given its market value as a cash crop; high MSP and relatively greater yield than other crops. Higher profits have incentivised sugarcane production, even in areas with water scarcity. A lack of research-driven economic planning and policy framework for sustainable irrigation practices have resulted in farmers relying majorly on groundwater resources for irrigating their sugarcane farms in the rainfall deprived regions. In an insightful blog, Senior Research Analyst Sridhar Kundu brings forth the issue of ecological impact of sugarcane production in water scarce region in Maharashtra. Read more in his IDP blog here.

In a write-up for Forbes India titled 'How can businesses help India achieve net-zero target?', Dr Anjal Prakash, Research Director, Bharti Institute, talks extensively on India's viable pursuits for reducing greenhouse emissions. India, he says, has stronger grounds to pledge for achieving Net Zero emission by 2050 in the upcoming COP26 - UN Climate Change Conference.
FACULTY/ RESEARCHER IN NEWS

RESEARCH STUDIES IN NEWS

Why planting tons of trees isn't enough to solve climate change?
Unplanned, ill-devised and reckless tree plantation drives have proved to be ineffective, rendering the environment question unsettled. A research study by Prof Ashwini Chhatre and Research Fellow Divya Gupta as co-authors, gets quoted in Science News, in an article that calls for planned tree planting and protection. The study explores the limitations of large-scale tree planting and calls in for comprehensive, people-centric approaches to conserve ecosystems. (July 9)
Study draws attention to political reforms for the success of forest carbon finance
An article by Mongabay India refers to a research study by Prof Ashwini Chhatre, Divya Gupta and Nabin Pradhan as co-authors, to draw attention to the importance of political reforms and policies to bolster the decision-making power of indigenous and forest-based communities over the lands they use, to steer forest conservation. (July 22)
---
With this, we come to the end of the third issue of Communiqué. We thank our team for its relentless efforts, dedication and creativity to take the Institute forward in research, education and stakeholder engagements. See you again in November with new ventures and updates. Stay Safe!
---
Compiled by: Sangeetha Hariharan & Sukhmani Kaur
If you would like to subscribe to the Bharti Institute newsletter, please email us at bipp@isb.edu
---
Bharti Institute of Public Policy,
Indian School of Business, Mohali Campus
---
Copyright © Indian School of Business. All rights reserved.