To be an internationally top-ranked*, research-driven, independent management institution that grooms future leaders for India and the world.



Updates and Information on upcoming events from the alumni association.
MORE >>



Founding Class
Nikhil Gahrotra had a baby girl on August 22,2011

Class of 2004
Subramani Ramachandrappa, CMD for Richcore Lifesciences Pvt Ltd, received the award for "Emerging Company of the year 2010" in the BioIndustrial category by the Department of IT, BT and S&T, Government of Karnataka.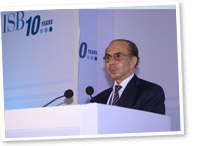 It's been a whirlwind of a month and if you read on, you'll see why… The Centre for Emerging Markets Solutions (CEMS) hosted the South Asian Young Global Leaders of the
Professor Prashant Kale: The King of Hearts
Now if wishes were horses and if pigs could fly (which means there won't be any swine flu) and if someone from Mars could have landed in Atrium at the meal time in ISB campus, he/she/it would have figured out that Professor Prashant Kale is the most popular Professor in ISB campus.
MORE >>




ISB alumni are making their mark in diverse businesses around the world. In this issue, four such remarkable alumni, Gautam Chhugani, Gurpreet Walia Singh, Vaibhav Roongta and Vivin Samuel Mathew talk about their lives at the ISB, career path after graduation and vision for the School.
MORE >>>