Alumna on her stint at ISB and journey henceforth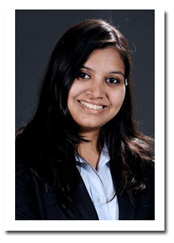 On the occasion of the first birthday of her entrepreneurial venture 7Vachan – a wedding consulting service, alumna Minnat Lalpuria's from the PGP class of 2012 turns back a few pages to recollect how ISB helped her begin her entrepreneurial journey.
Under the influence of an entrepreneur father she always had numerous ideas while her stint at ISB broadened her perspective and groomed her into a business professional says Lalpuria. "ISB gave me the strength and confidence to nurture my longtime dream and turn it into a reality. It gave me some sort of energy to take the plunge" recalls Lalpuria. She says that the constant support and guidance from faculty and fellow students helped her grow "an idea" into a "feasible business plan." She fondly remembers the course, Entrepreneurial Decision Making as her personal favourite as it made her realise that she could work on an idea more definitely.
She opines that the support she received from the alumni at every step through suggestions and opinion even on minute details and the networks she built over the period of one year at the School helped her in her journey of getting 7Vachan where it is today. Lalpuria is glad that 7Vachan has built a customer base of more than hundred happy customers and partnered with 350 odd brands in this one year; but says that it was not easy to give up on regular job offers to start something from scratch.
Recent times are seeing more and more women embrace an entrepreneurial career. There are 200 graduate alumni entrepreneurs from ISB excluding those with family businesses. Women constitute 10% of them and the numbers have only gone up in the last half decade.