Vinod Khosla interacts with ISB students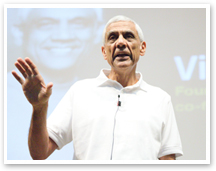 Vinod Khosla, founder of Khosla Ventures and co-founder of Sun Microsystems recently visited the Hyderabad campus where he addressed a packed auditorium. The Veteran Silicon Valley entrepreneur made a pitch for optimism in this era of economic doom and gloom and participated in a Question and Answer session with students and faculty responding to a host of questions. He also interacted with a group of students who are studying Khosla Ventures for an academic project.

Vinod Khosla, in his interaction, dispelled common business myths about investing in start-ups and stressed on the importance of passion, continuous learning and a willingness to try and fail. As an apt end to an inspirational session, Khosla inaugurated ISB's flagship event – The ISB Leadership Summit (ILS) – a 2-day business conclave with this year's theme being "Breaking the Myth."
Olympians Quest for Gold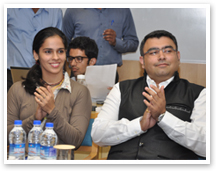 Olympic Gold Quest (OGQ) Conclave at ISB brought together Saina Nehwal, Gagan Narang and Viren Rasquinha to discuss the future of sports in India.

Rasquinha addressed a packed audience highlighting the challenges faced by sportspersons in realising their dream, recounting his early years with the hockey stick. Ace shooter Gagan Narang was critical of the current Indian scenario where sportspersons gain recognition and support only on winning a medal while stressing the need for proper mentoring and appropriate support all along. Star shuttler Saina Nehwal voiced optimism over India's increasing responsiveness to the needs of sportspersons, while she stressed that there was lot more to be done in terms of support and efforts to make giant strides. She noted that the initiatives such as the recent Indian Badminton League (IBL) are welcoming as it has been helpful to the young players and in popularising the game.

Subroto Bagchi on his new book The Elephant Catchers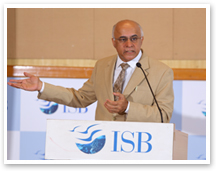 Subroto Bagchi recently visited the Hyderabad campus where he spoke about his new book The Elephant Catchers. This book is Bagchi's gift to entrepreneurs and their businesses which have hit the proverbial glass ceiling after a successful start.
Bagchi introduced the book with interesting anecdotes from his early life in Odisha. The book is arranged in six Parts and provides a clearly articulated framework that can help enterprises understand the essence of scaling.

Energy Summit 2013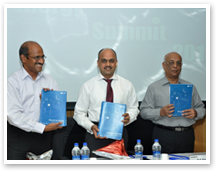 The Energy summit is the flagship event of the Energy club. It acts as an excellent platform for experts in the energy sector to share ideas in a collaborative manner, across a wide array of topics ranging from conventional energy to Cleantech and create a roadmap for sustainable growth of the sector.
The Energy Summit 2013 was conceived around panel discussions on Oil and Gas market and on Power and Cleantech. The panelists included senior officials from the public and corporate enterprises in the Energy sector including Cairn India, Indian Oil Corporation Limited, Deloitte India (Energy Practice) among others.
The Club also released a "Thought Leadership" booklet, which is a compilation of student's perspective on recent industry happenings which showcased the breadth of industry expertise among the students in the Energy domain.
Service Science Workshop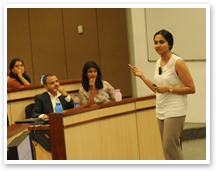 The Srini Raju Center for IT & the Networked Economy (SRITNE) organised a two-day workshop on Service Science Management to bring together academicians, industry experts, researchers and students to discuss how interactions between people, technology, organisations and information creates value in emerging service businesses.
The workshop provided a platform for discussions on topics such as the use of analytics in improving service delivery, technological innovations in services for improving customer experience, newer methods of nurturing human capital to create the next generation workforce and metrics for value assessment of services. The panel discussions invited thoughts and comments which led to a vibrant exchange of ideas between industry and academic experts about the various aspects of the services businesses.
Students organise management workshops for Non-Profits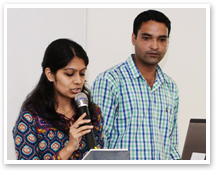 Diffusion is a capacity building workshop for non-profit organisations conducted annually by the Net Impact Club of the School. This two day workshop was recently held at the Mohali Campus. The objective is to instill entrepreneurial approaches in traditional non-profit organisations to enable them to scale effectively and achieve operational efficiency.
The workshop included modules such as
Organisation Building, Social Innovation in Sustainable Business Model and Brand Building and Market Activities
among others which were delivered primarily by students and faculty members of the School. The workshop culminated in Unconvention|L - a half day social entrepreneurship event conducted by Villgro Foundation and hosted by the Net Impact Club. At Unconvention|L, the participants got an opportunity to hear inspiring stories of successful social entrepreneurs and learn from their experiences, network with sector leaders and connect to a local eco-system of support and national network of opportunities.
5th ISB-NHRDN Talent Management Conclave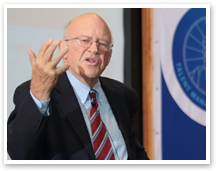 Indian School of Business (ISB) and the National HRD Network in association with Blanchard Research and Training India LLP organised the 5th ISB-NHRDN Talent Management Conclave recently at the Hyderabad campus.
Ken Blanchard, noted author and one of the most influential management experts delivered the Key note address. He spoke on "Leading at a Higher Level - Results and People" where he elaborated on how to lead people to greatness. He emphasised on four key elements: setting the sights on the right vision, treating the customers right, treating people right, and having the right kind of leadership.
This was followed by a session by Yogesh Sood, Managing Director, Blanchard Research and Training India LLP. He spoke on the factors that lead to an engaging work environment that promotes productivity and growth. He also explained Situational Leadership II (SLII) a renowned leadership model for talent management and employee development developed by Blanchard Research and Training India LLP.
Workshop on Financial Modeling
The Finance Club at the Mohali Campus welcomed Ashutosh Prajapati and Mithil Pawar, from Academy of Financial Training, Mumbai to conduct a two-day workshop on financial modeling. On Day one, participants were exposed to various areas in the field of finance where financial modeling could be applicable. Facilitators discussed advanced functions in MS-Excel which could be used to save time and optimise effort while building a financial model. Participants were made to build an extensive financial model based on Hero Motocorp's projected revenues and cash flows across the company's various product lines.
On Day two, participants focused on building industry specific models for infrastructure, power, telecom, healthcare and the hospitality industry.
The workshop gave the participants a strong understanding on building robust financial models and interpreting revenue models across different sectors of the economy.